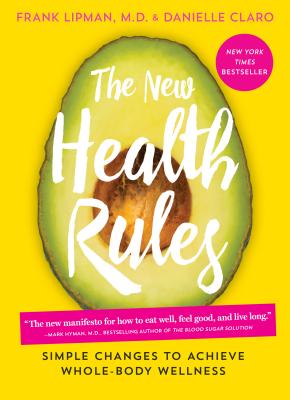 The New Health Rules
Simple Changes to Achieve Whole-Body Wellness
Paperback

* Individual store prices may vary.
Other Editions of This Title:
Digital Audiobook (4/23/2018)
Hardcover (1/6/2015)
Compact Disc (4/24/2018)
MP3 CD (4/24/2018)
Description
New York Times Bestseller—now available in paperback!
"One of the easiest to understand books on health."
—CNN

"A manual for living well, with clear and easy rules that anyone can put into practice."
—Men's Journal, Best Health Books of the Year

Frank Lipman, M.D., is "at the vanguard of a revolutionary way to deliver medical care" (O, The Oprah Magazine). A leading expert in the field of functional medicine, Dr. Lipman focuses on the root causes of illness and guides his patients to the deepest, most lasting sources of wellness. In this book, he and coauthor Danielle Claro make life-changing health advice available to all. Their book offers the cutting-edge secrets to optimal health in a stylish, lushly illustrated format—a spoonful of beauty to help the wellness tips go down.

The New Health Rules wades through the often contradictory information that bombards us daily and delivers more than 100 actionable tips that will improve every aspect of our health—body, mind, and soul. Readers will learn simple rules for getting a good night's sleep, why a daily dose of sunlight is crucial, and which toxic cosmetics and kitchen products should be tossed. Here Lipman and Claro teach us which foods help prevent Alzheimer's, why sugar is so destructive, and how to bring "good bacteria" into the digestive system—providing an arsenal of easy-to-process tips and guidelines to make us stronger, healthier, and happier.
Praise For The New Health Rules: Simple Changes to Achieve Whole-Body Wellness…
"Our favorite give-it-to-me-straight guide for living well."
—Marie Claire
 
"The New Health Rules is a manual for living well, with clear and easy rules that anyone can put into practice. Integrative health expert Dr. Lipman unmasks the real causes of disease and explains how to make daily tweaks to outrun them."
—Men's Journal, Best Health Books of the Year
 
"Say sayonara to juice cleanses and fasting."
—InStyle
 
"The message is clear: for peak health, you have to go beyond the specific problem and treat the whole you. . . . Fight fatigue, feel happier, and score loads of extra energy."
—Women's Health
 
"The New Health Rules breaks down health into very simple, easy-to-follow adages, and then rounds it out with truly stunning photography. He addresses everything from the tenets of a 'healthy' bed to working standing up, with plenty of nutritional advice in between."
—goop
 
"Short, specific tips about how to live a healthful life through diet, exercise, personal well being, and even how to appoint your home. Written with the succinct common sense of Michael Pollan and the calm of Bob Mandel's Open Heart Therapy, this handsome health manual covers everything that can make you healthy and wise. . . . Each page has a small, to-the-point description of a health factor, faced by a mind-warming photo; it's almost a mini-library."
—St. Louis Post-Dispatch
 
"Amidst the New Year's onslaught of complicated diet tricks and body-hacking workouts, The New Health Rules provides a breath of fresh air. Instead of all-or-nothing lifestyle changes, author Frank Lipman, MD . . . offers simple, creative tips that add up to a healthier you."
—Yahoo! Health
 
"'This book is not meant to change you in a weekend.' That is how The New Health Rules by Integrative doctor Frank Lipman and writer Danielle Claro begins. But, the truth is, it could. Why? Because it makes wellness feel easy, not overwhelming. It's a quick read that breaks down health and beauty information in short, easy bursts. . . . Flip to any page and you will inspired to start integrating the little changes that will add up to a healthier, happier, more glowing you."
—Yahoo! Beauty
 
"If someone on your shopping list is looking to jump-start a healthier lifestyle but doesn't want to read a holier-than-thou encyclopedia about it, buy them this sweet little book. Each page contains a tip about making smarter choices, none of them longer than a paragraph, all of them accompanied by a beautiful photograph."
—WMagazine.com
 
"A purse-size book packed with more than 100 simple tips to help you live healthier and better."
—Refinery29
 
"In his new book, The New Health Rules, Dr. Frank Lipman . . . offers his secrets to feeling our best. He prescribes a new lifestyle, not a diet, which he breaks down into five categories: eating ('eat till you're only 80 percent full'), moving ('stop if it hurts'), boosting ('spend lots of time with people you love'), healing ('wander barefoot'), and living ('lose the mainstream deodorant'). It's a handy little collection of healthy habits."
—T: The New York Times Magazine
 
"Lipman's new book, The New Health Rules, lays out the basics of healthy habits."
—New York Daily News
 
"A modern manifesto for living a healthy, cool life."
—Well + Good
 
"[An] easy-to-read guide to chemical-free, healthy living. . . . Get ready to feel more zen."
—Booklist
 
"A wellness guide for the modern age."
—FoodNetwork.com
 
"This short and sweet wellness guide from Real Simple editor Danielle Claro and Frank Lipman, M.D., is pretty fascinating. Here's the gist: Each page features one simple (yet brilliant) suggestion. The idea is that you can flip to any one, any day of the week, and work on that single idea. No more unnecessary information (um, polyglycerides who?) or feeling like you need to uproot your whole life in a weekend."
—PureWow
 
"Transforming your health doesn't have to be daunting. . . . The book is easy to absorb at a glance. Plop it on your coffee table, desk, or breakfast counter for daily motivation."
—Experience Life
 
"Timeless, easy-to-use health advice."
—Epoch Times
Artisan, 9781579657598, 224pp.
Publication Date: December 13, 2016
About the Author
A pioneer and internationally recognized expert in the fields of integrative and functional medicine, Frank Lipman, MD, is the founder and director of Eleven Eleven Wellness Center and the chief medical officer of The Well in New York City.  A New York Times bestselling author, Dr. Lipman has written six books: Total Renewal: 7 Key Steps to Resilience, Vitality, and Long-Term Health; Revive: Stop Feeling Spent and Start Living Again; The New Health Rules: Simple Changes to Achieve Whole-Body Wellness; 10 Reasons You Feel Old and Get Fat: And How You Can Stay Young, Slim, and Happy!; and, most recently, How to Be Well: The 6 Keys to a Happy and Healthy Life.

Danielle Claro is a coauthor of The New Health Rules, a New York Times bestselling wellness book written with Dr. Frank Lipman. She's the former deputy editor of Real Simple and was the founding editor in chief of Breathe magazine. She lives with her family in the Lower Hudson Valley.
or
Not Currently Available for Direct Purchase