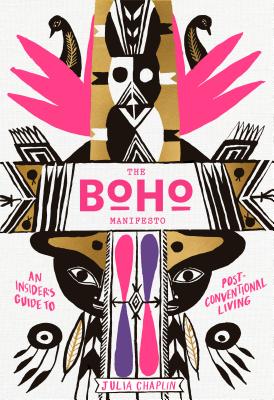 The Boho Manifesto (Hardcover)
An Insider's Guide to Postconventional Living
Artisan, 9781579657895, 192pp.
Publication Date: June 11, 2019
* Individual store prices may vary.
Description
The bohemian disruption has arrived. Microdosing psychedelics has become the new business learning tool, spiritual ceremonies and ideas festivals are now coveted pastimes, and Burning Man is already a bigger cultural touchstone than Woodstock. Written by boho-from-birth Julia Chaplin, The Boho Manifesto is here to illuminate the revolution.

This finely detailed and richly illustrated handbook is the essential guide to what lies beyond the experience of everyday conformity. You'll learn how to quit the gym and go dancing instead and how to become a sex-positive tantric unicorn. And, should you be ready, there's advice on how to leave your cubicle behind and embrace the life of a nomadic entrepreneur—or at least a nomad.
About the Author
Julia Chaplin is a New York–based journalist, author, designer, and consultant. She is a frequent contributor to the New York Times, Travel & Leisure, Condé Nast Traveler, Elle, and W magazine. She has written and produced three books: Gypset Style, Gypset Travel, and Gypset Living. She operates the website Gypset.com, designs clothing, consults on hospitality and interior projects, and lectures on the bohemian lifestyle.
 
Praise For The Boho Manifesto: An Insider's Guide to Postconventional Living…
"A tongue-in-cheek how-to for . . . the new-age bohemian."
—Vogue
 
"The modern day, cool kid answer to The Official Preppy Handbook of yore, Julia Chaplin's The Boho Manifesto is a hilarious, educational, too true deep dive into the carefully calculated, laid-back culture of today."
—Guest of a Guest
 
"I can't take it too seriously, but that didn't keep me from being ridiculously entertained by The Boho Manifesto. . . . [Chaplin] dates the new bohemian era to the 2008 economic crash and peers at it from every angle—from meditation and yoga to polyamory and chakra sightseeing. Sprinkled throughout are amusing illustrations of subtypes: tantric yogi, activist farmer, fermentation goddess ('sells her natural fragrance made from soil, wild thyme flower, and wood on her e--commerce site'). Chaplin likely had a delightful time putting this book together, and if you see even a moon-dust particle of yourself in these pages, you'll dig it, too. Palo santo not included." 
—BookPage, starred review