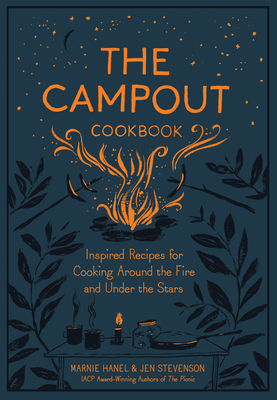 The Campout Cookbook
Inspired Recipes for Cooking Around the Fire and Under the Stars
Hardcover

* Individual store prices may vary.
Description
"Spells out how to eat well when camping out."
—The Washington Post
 
"This is the rare book that considers campfire cookery as a gustatory pursuit."
—Sierra, the National Magazine of the Sierra Club

Forget freeze-dried astronaut meals and bags of stale, store-bought gorp. Finally, here's a cookbook that complements the magic of gathering around a campfire and sharing a meal with friends. From the IACP Award–winning authors of The Picnic, which brought taste and style to eating outdoors (in the daytime), comes its companion, for leaving civilization behind and dining under the stars. A mix of dishes to make ahead and meals to cook on-site, The Campout Cookbook includes more than 75 recipes for wood-fired skillet pizzas; backcountry stews and chilies; fire-roasted vegetables and cast-iron breads; unexpected dips, jerkies, and high-energy bars; breakfasts to satisfy that yawning hunger that comes from sleeping in the fresh air; s'mores, of course (including Vanilla Bean Dream Marshmallows & Co. and Dark Chocolate Raspberry Caramel Fire-Ban S'mores); and cocktails, coolers, warm libations for chilly nights, and a Blood Orange Bug Juice.

Plus there's inspiration and know-how for every avid camper and enthusiastic neophyte: How to find a suitable campsite and build a campfire specifically for cooking over, and how to keep it going. Stargazing for city slickers. A troubleshooting guide. And the definitive packing list and camp kitchen essentials. Just add a few scary stories for a truly memorable campout.
 
Praise For The Campout Cookbook: Inspired Recipes for Cooking Around the Fire and Under the Stars…
"Spells out how to eat well when camping out."
—The Washington Post
 
"Smart writing and clever hacks make this the most packable book for the glamping of your dreams."
—TheKitchn
 
"For the novice camp cook, or even the first-time camper, the tone ofThe Campout Cookbook will feel like advice from a pair of comforting, if sassy, big sisters. . . . Many of these practical tips may strike even lifelong campers as inspired."
—Santa Fe New Mexican
 
"If, like me, you're picky about buying new cookbooks, this one stands out from the crowd. . . . It delivers really good food. Some of it simple, some of it a little more elevated, but all of it perfect for enjoying in a folding chair."
—Chatelaine
 
"These recipes bring culinary swagger to the backcountry. . . . Everything you need to become the next backcountry Iron Chef."
—Portland Monthly
 
"Recipes that take your campfire cooking to Michelin star status. We're talking skillet pizzas, fire-roasted veggies, and dessert in the form of Dark Chocolate Raspberry Caramel Fire-Ban S'mores. Your tent-mates will think they're roughing it with Thomas Keller."
—CoolMaterial.com
 
"Resolutely playful, it's a book loaded with camping hacks and instructions: how to clean a fish, how to make flask cocktails, and 99 ways to use a Thermos. . . . What's more, many of the abundant recipes – Green Chile and Cheese Cast-iron Cornbread or Brown Butter Toffee Blondies – would be just as appealing back home as they would after a day of hiking. . . .  Make[s] experienced camp cooks and novices alike want to head for the hills."
—Salem Statesman Journal
 
"This book makes the often overwhelming task of preparing food on the campsite feel very doable and fun. I adore the illustrations and handy charts."
—NotWithoutSalt.com
 
"Plenty of practical 'roughing it' tips, alongside 100-plus sophisticated takes on campfire fare."
—Modern Farmer

"Who knew camp cuisine could be so elevated, pleasing even the most discerning foodie? . . . Many of the recipes are kid-pleasing and vegetarian-friendly. The colorful guide also includes solid camping tips, tricks, and safety information to make your trip memorable beyond the meals. VERDICT: Camping chefs of any skill level are sure to find something tasty to try in this cookbook."
—Library Journal
 "Clever and charming, Hanel and Stevenson cover it all—their 75 delicious dishes include many make-aheads, from trail snacks and flask fortifications to marvelous morning treats and spectacular suppers ending in more than just the traditional s'mores. The how-tos of setting up your campsite are included, plus a definitive packing list."
—BookPage

"The authors' enthusiasm for feasting around a well-made campfire shines in their detailed instructions for assembling the right cooking gear, recipes, and unplugged entertainments. . . . The recipes are still the stars of this book, however. . . . Hanel and Stevenson write with flair and creativity, and their prose translates into action plans for some really fantastic outdoor sleepover parties."
—ForeWord
Artisan, 9781579657994, 224pp.
Publication Date: May 29, 2018
About the Author
Marnie Hanel is the coauthor of The Snowy Cabin Cookbook; Summer: A Cookbook; The Campout Cookbook; and The Picnic, winner of the 2016 IACP Award for Best General Cookbook. Hanel is a journalist who writes about the wild, wonderful way we live. Her essays and articles have been published by The New York Times Magazine, Food & Wine, and Vanity Fair. She lives in Portland, Oregon.


 

Jen Stevenson is the coauthor of The Snowy Cabin Cookbook; Summer: A Cookbook; The Campout Cookbook; and The Picnic, winner of the 2016 IACP Award for Best General Cookbook. Stevenson eats and tells on her Portland food blog, Under the Table with Jen, and is the author of Portland's 100 Best Places to Stuff Your Faces. She lives in Portland, Oregon.