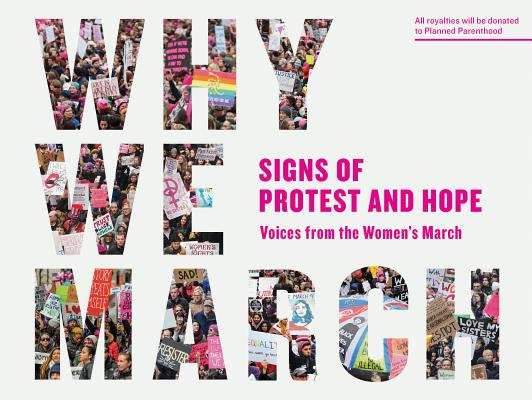 Why We March
Signs of Protest and Hope--Voices from the Women's March
Paperback

* Individual store prices may vary.
Description
National Bestseller

On January 21, 2017, millions of people gathered worldwide for the Women's March, one of the largest demonstrations in political history. Together they raised their voices in hope, protest, and solidarity. This inspiring collection features 500 of the most eloquent, provocative, uplifting, clever, and creative signs from across the United States and around the world. Each is a powerful reminder of why we march. As with the recent battle cry of "Nevertheless, she persisted," these messages continue to reverberate daily and fortify a movement that will not be silenced. All royalties from the sale of this book will be donated to Planned Parenthood.
Praise For Why We March: Signs of Protest and Hope--Voices from the Women's March…
"The 500 photos predominantly feature protest signs—from the powerful (written on the stripes of an American flag: 'Love is love. Black lives matter. Climate change is real. Immigrants make America great. Women's rights are human rights.') to the funny ('Trump eats pizza with a fork!') to the simple ('UGH'). Interspersed with the photos are quotes from speeches given at the marches by powerful women. These include politicians such as Elizabeth Warren and Kamala Harris, activists such as Janet Mock, Gloria Steinem, and Angela Davis, and celebrities such as Ashley Judd and Janelle Monáe." —Bust

"Thought-provoking."
—Publishers Weekly
 
"A big fat global hug."
—Toronto Star
 
Artisan, 9781579658281, 264pp.
Publication Date: March 7, 2017
About the Author
Artisan, a division of Workman Publishing Company, publishes illustrated books to inspire and instruct, produced with great intention and quality. Specializing in cooking, design, crafts and hobbies, and expanding the boundaries of general nonfiction, Artisan's bestselling titles include Thomas Keller's The French Laundry Cookbook and recent New York Times bestsellers The Dogist, In the Company of Women, John Derian Picture Book, The Kinfolk Home, and The New Health Rules.