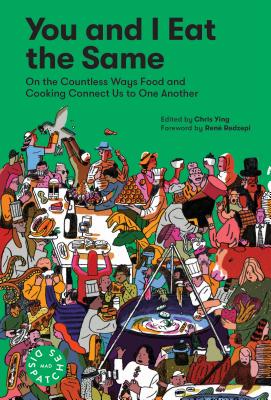 You and I Eat the Same
On the Countless Ways Food and Cooking Connect Us to One Another (MAD Dispatches, Volume 1)
Paperback

* Individual store prices may vary.
Other Editions of This Title:
Paperback, Korean (8/12/2019)
Description
Winner, 2019 IACP Award for Best Book of the Year in Food Matters

Named one of the Best Food Books of the Year by The New Yorker, Smithsonian, The Boston Globe, The Guardian, and more

MAD Dispatches: Furthering Our Ideas About Food

Good food is the common ground shared by all of us, and immigration is fundamental to good food. In nineteen thoughtful and engaging essays and stories, You and I Eat the Same explores the ways in which cooking and eating connect us across cultural and political borders, making the case that we should think about cuisine as a collective human effort in which we all benefit from the movement of people, ingredients, and ideas.
 
An awful lot of attention is paid to the differences and distinctions between us, especially when it comes to food. But the truth is that food is that rare thing that connects all people, slipping past real and imaginary barriers to unify humanity through deliciousness. Don't believe it? Read on to discover more about the subtle (and not so subtle) bonds created by the ways we eat.
 
Everybody Wraps Meat in Flatbread:
From tacos to dosas to pancakes, bundling meat in an edible wrapper is a global practice.
 
Much Depends on How You Hold Your Fork:
A visit with cultural historian Margaret Visser reveals that there are more similarities between cannibalism and haute cuisine than you might think.
 
Fried Chicken Is Common Ground:
We all share the pleasure of eating crunchy fried birds. Shouldn't we share the implications as well?
 
If It Does Well Here, It Belongs Here:
Chef René Redzepi champions the culinary value of leaving your comfort zone.
 
There Is No Such Thing as a Nonethnic Restaurant:
Exploring the American fascination with "ethnic" restaurants (and whether a nonethnic cuisine even exists).
 
Coffee Saves Lives:
Arthur Karuletwa recounts the remarkable path he took from Rwanda to Seattle and back again.
Praise For You and I Eat the Same: On the Countless Ways Food and Cooking Connect Us to One Another (MAD Dispatches, Volume 1)…
"These essays—by an all-star lineup of writers . . . are concrete and eye-opening, touching on how food affects (and is affected by) migration, immigration, war, flight, history, and home."
—The New Yorker, The Best Food Books of 2018

"You and I Eat the Same . . . will engross you, open up your mind, and inspire a feeling of interconnectedness."
—Bon Appétit

"An impressive collection of essays and stories about how food connects people across political lines and cultural borders. . . . René Redzepi penned the foreword, and . . . promotes the idea of venturing outside one's culinary comfort zone. Hear, hear!"
—Smithsonian, The Ten Best Books About Food of 2018

"Each one of its stories [shed] light on the ways food can establish common ground. . . . A gentle manifesto. Buy it for anyone for whom food means more than 'what's for lunch.' "
—The Guardian, The 20 Best Food Books of 2018
 
"A welcome message."
—Boston Globe, The Best Cookbooks of 2018
 
"This collection of 18 thought-provoking essays and stories . . . demonstrates how food and cooking connect communities and the power of immigration in a global food community. It's a lovely way to discover how international the love of fried chicken really is, and the value in getting out of your comfort zone."
—Plate, The Year's Best Books About Food and Restaurants

"A laser-accurate shot of urgency. . . . Ying stitches together a memorable anthology of stories and essays with the goal of delivering a simple message: Humanity is on top of its game when it's inclusive, and exhibit A is our culinary history."
—Austin Chronicle

"Explore[s] the ways in which immigration is key to creating good food. It argues that cuisine is a shared global, collective human endeavor enhanced by the sharing of ideas, people, and ingredients. Food is essential in bringing us together."
—Epicurious

"This book looks to food to connect and heal us."
—NewWorlder.com, Essential Reading

"This incredible collection of stories, research, and ideas proves that food touches everything . . . and had me reaching for my notebook to write down all the aha moments about the power of food to change the world."
—José Andrés

"This collection of essays and reflections reminds us that what we eat and how is not only an expression of our identity, but it can also constitute a link to connect to other people and cultures."
—Fabio Parasecoli, professor of food studies at NYU
Artisan, 9781579658403, 216pp.
Publication Date: October 2, 2018
About the Author
Chris Ying is the cofounder and former editor in chief of Lucky Peach. He has written and edited numerous books about food and other topics.

René Redzepi is the chef and co-owner of Noma in Copenhagen, four times recognized as the world's best by the World's 50 Best Restaurants. Redzepi has twice appeared on the cover of Time magazine (and been named one of Time's 100 Most Influential People in the World); been featured in publications from the New York Times to Wired; and been profiled in two feature-length documentaries and countless national and international media outlets. His first book, Noma: Time and Place in Nordic Cuisine, was an IACP and James Beard Award winner. He is also the author of A Work in Progress. He lives with his wife, Nadine Levy Redzepi, and their three children. Find him on Instagram @reneredzepinoma and @nomacph.

MAD (Danish for "food") is a nonprofit dedicated to bringing together a global food community with an appetite for change. Food is inseparable from some of the most pressing global challenges of our time, and MAD's focus is to help inspire, educate, and find creative solutions that make a real and sustainable difference in restaurants, communities, and the world at large.