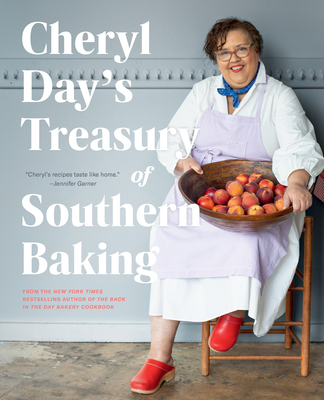 Cheryl Day's Treasury of Southern Baking
Hardcover

* Individual store prices may vary.
Description
"The definitive book on Southern baking . . . a master class in making memorable baked goods."
—Bon Appétit

IACP Cookbook Award Winner
James Beard Award Finalist
Georgia Author of the Year Award Winner
Named a Best New Cookbook by Eater, Food & Wine, Southern Living, Epicurious, and more
Named a Best Cookbook of the Year by Bon Appétit, Garden & Gun, and Taste of Home
Named a Best Cookbook to Read and Gift by Thrillist
Named a Top 10 Most Anticipated Cookbook of Fall 2021 by Stained Page News

There is nothing more satisfying or comforting than tying on a favorite apron and baking something delicious. And nowhere has this been so woven into life than in the American South, where the attitude is that every day is worthy of a special treat from the kitchen.

Cheryl Day, one of the South's most respected bakers, a New York Times bestselling author, and co-owner—with her husband, Griff—of Savannah's acclaimed Back in the Day Bakery, is a direct descendent of this storied Southern baking tradition. Literally: her great-great-grandmother was an enslaved pastry cook famous for her biscuits and cakes. Now Cheryl brings together her deep experience, the conversations she's had with grandmothers and great-aunts and sister-bakers, and her passion for collecting local cookbooks and handwritten recipes in a definitive collection of over two hundred tried-and-true recipes that celebrate the craft of from-scratch Southern baking.

Flaky, buttery biscuits. Light and crisp fritters. Muffins and scones with a Southern twist, using ingredients like cornmeal, pecans, sorghum, and cane syrup. Cookies that satisfy every craving. The big spectacular cakes, of course, layer upon layer bound by creamy frosting, the focal point of every celebration. And then the pies. Oh, the pies!

The book steeps the baker in not only the recipes, ingredients, and special flavor profiles of Southern baking but also the very nuances of how to be a better baker. With Cheryl as your guide, it's like having generations of Southern bakers standing over your shoulder, showing you just how to cream butter and sugar, fold whipped egg whites into batter, adjust for the temperature and humidity in your kitchen, and master those glorious piecrusts by overcoming the thing that experienced bakers know—a pie dough can sense fear!

Time to get out that apron.
 
Praise For Cheryl Day's Treasury of Southern Baking…
"Cheryl Day just wrote the definitive book on Southern baking. . . . A master class in making memorable baked goods."
—Bon Appétit

"A wealth of recipes that home bakers will be returning to for . . . generations to come."
—Eater, The Best Cookbooks of Fall 2021

"A treasure trove of delicious Southern treats."
—USA Today network

"Sure to join the canon."
—Food Wine

"In her deliciously thorough new book, [Day] . . . shares clever tricks (like her grandmother's genius method for baking last night's mashed potatoes into tomorrow's dinner rolls), practical advice about butter temperature and rolling pin weight, and a complete roster of treats."
—Garden Gun

"A very special cookbook. . . . Encyclopedic in its information, but warm, friendly and accessible."
—Forbes

"Cheryl Day has become one of the most important voices in American baking today, most notably on the craft of Southern baking. . . . With over 200 recipes that reflect the culture of from-scratch Southern baking—while highlighting the ingredients and specialties that make Southern food so unique—this book is destined to become the new bible of Southern baking."
—Pastry Arts magazine

"Stunning images and mouthwatering recipes for all the Southern classics plus plenty of Cheryl's original bakes."
—Taste of Home, The Best Cookbooks of 2021

"Day's central achievement is to showcase that Southern baking isn't set in amber or clay as artifacts in some museum; instead she breathes it to roaring life, constantly challenging herself and her craft into a modern day history full of relevance, stories, respect, and tradition."
—Edible Los Angeles, The Season's Most Delicious Reads

"Stunning."
—Atlanta Journal-Constitution

"These indulgent treats are guaranteed to satisfy."
—Closer Weekly

"Impressive . . . Inspired by the handwritten recipes passed down from her great-great-grandmother and a passion for collecting old Southern cookbooks, Day supplements her delectable offerings with fascinating historical context. . . . Her easy-to-follow steps and tricks (like blanching peaches to perfectly peel them) will boost confidence and help refine baking techniques so that 'every day is worthy of a special treat from the kitchen.' This is an excellent guide for novice and experienced bakers."
—Publishers Weekly, STARRED REVIEW

"Perfect for bakers of all levels."
—Library Journal, STARRED REVIEW

"Cheryl's recipes taste like home."
—Jennifer Garner
 
"Cheryl Day's Treasury of Southern Baking includes the sweet and savory recipes I wish I'd gotten from my mother and grandmothers. Whether you are a baking novice or a seasoned professional, this will soon become your batter-spattered go-to bible. Beautifully illustrated, this heartfelt work is not only a love poem to the cooks who created the recipes, it is, quite simply, a masterpiece."
—Jessica B. Harris, culinary historian, lecturer, and author of High on the Hog
 
"There has never been and will never be a more comprehensive book on Southern baking."
—Sean Brock, chef, restaurateur, and author of Heritage and South
 
"Cheryl Day's delicious recipes and family stories reveal how she has used classic Southern desserts to hone her own voice. I live for a book like this one that is unapologetically Black and proud and honors our ancestors by keeping their stories alive through food."
—Mashama Bailey, chef and coauthor of Black, White, and The Grey
 
"I trust Cheryl Day. This applies not only to her recipes but also to her stories, her character, and her style. This treasury comes from a woman who is herself a treasure."
—Julia Turshen, author of Simply Julia and host of Keep Calm Cook On
 
"Baking is, at its best, about resiliency and connectivity. And bakers, at their best, are mapmakers leading us to this connection through the drama of history. Cheryl Day is one of America's finest mapmakers. She has given us a brilliant book."
—Lisa Donovan, pastry chef and author of Our Lady of Perpetual Hunger
 
"Cheryl has created a tribute to all the Southern bakers who came before her. I dare the reader to skim a recipe, indulge in the stunning photography, and not want to put their hands in flour."
—Anne Quatrano, chef and restaurateur, Star Provisions Market + Cafe
Artisan, 9781579658410, 400pp.
Publication Date: November 9, 2021
About the Author
Cheryl Day is a New York Times bestselling cookbook author, a James Beard Award semifinalist for Outstanding Pastry Chef, a self-taught scratch baker, and an entrepreneur. With her husband, Griffith Day, she is a cofounder of the Back in the Day Bakery in Savannah, Georgia, and coauthor of The Back in the Day Bakery Cookbook. Cheryl is a cofounder of Southern Restaurants for Racial Justice and a founding member of the leadership committee for the James Beard Foundation Investment Fund for Black and Indigenous Americans. Cheryl lives with Griff, her baking soul mate; Story, their beloved dog; and a vast collection of vintage cookbooks in Savannah. Keep up with Cheryl at backinthedaybakery.com and on Instagram at @cherylday, where she lives out her mantra to "slow down and enjoy the sweet life."