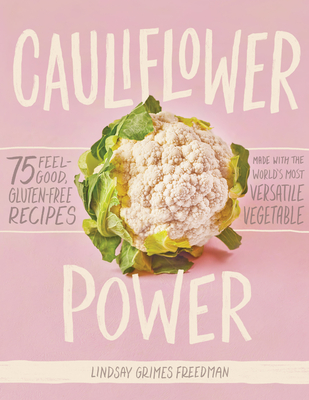 Cauliflower Power
75 Feel-Good, Gluten-Free Recipes Made with the World's Most Versatile Vegetable
Hardcover

* Individual store prices may vary.
Description
"A delightful cookbook! All of her recipes really work and are delicious."
—Gluten Free Easily

Low in carbs, fats, and sugars, and naturally packed with vitamin C, cauliflower is the super-est of all superfoods. Why cauliflower? It's a chameleon and can take on any flavor and texture. In her first cookbook, food blogger and recipe developer Lindsay Grimes Freedman brings her expertise in creating delicious, healthful, and practical recipes to one of the food world's most trending topics: cauliflower. With more than 75 recipes built around the five ways to prep cauliflower (as a whole head, florets, steaks, riced, and meal), Freedman transforms this versatile veggie into smoothies and scones, pizza crusts and pasta sauces, and sides and salads. Super swaps include falafel made with cauliflower and Caesar salad made with a cauliflower-based dressing, even cauliflower nachos, "bacon" bits, tots, and French toast. The recipes are healthful and easily adaptable for any diet without skimping on flavor or satisfaction. By harnessing the power of this anti-inflammatory veggie, readers will reap all the benefits of a plant-based diet without missing out on any of the good stuff.
Praise For Cauliflower Power: 75 Feel-Good, Gluten-Free Recipes Made with the World's Most Versatile Vegetable…
"If you're looking for ways to sneak more veggies past your kids (or spouse) at dinnertime, there's no question that Cauliflower Power will help you do it—who would have thought to add it to waffles, bagel dough, and caramel pudding? But beyond these novelties, you'll also find some creative, more-traditional recipes such as soups, pasta dishes, and casseroles that make the most of this versatile vegetable."
—Modern Farmer

"These genius uses for cauliflower deliver big flavors and nourishing nutrients."
—Closer Weekly

"A lovely and practical volume. . . . I'm vowing never to underestimate this powerhouse vegetable again."
—Atlanta Journal-Constitution

"We love these recipes."
—New Jersey Family

 "Cauliflower Power embraces [the vegetable's] adaptability, offering recipes that are gluten-free and rich in flavor."
—Orange County Register

"Channels [cauliflower's] untapped superpower . . . with 75 recipes, all with cauliflower as the star."
—Chowhound

"Lindsay Grimes Freedman has an ability to elevate everyday recipes into something irresistible that the whole family will love. Her creative uses for cauliflower run the gamut from smoothies to coffee cake to falafel and everything in between. Pick up this book if you're looking to incorporate more nutritious and gluten-free recipes into your everyday repertoire."
—Julie Resnick, founder of the FeedFeed
 
"Lindsay is a true cauliflower magician and takes full advantage of this incredibly versatile vegetable. I dare you not to get hungry while you flip through Cauliflower Power."
—Rachel Conners, creator of Bakerita
 
"Lindsay takes cauliflower obsession to a whole new level. Her recipes are incredible; approachable yet unique—and every dish is vibrant and beautiful."
—Jessica Merchant, creator of How Sweet Eats and author of The Pretty Dish
 
Artisan, 9781579659011, 240pp.
Publication Date: January 7, 2020
About the Author
Lindsay Grimes Freedman is a former attorney turned full-time food blogger and social media presence with a collective following of more than 250,000. Her husband's diagnosis of type 1 diabetes prompted her to learn how to cook in a more healthful yet still delicious way. Freedman works with major media outlets, including Food52, Shape, Glamour, and the FeedFeed. She lives in Newport Beach, California, with her husband and two boys. Find her on Instagram @thetoastedpinenut.