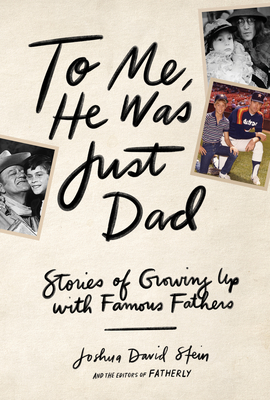 To Me, He Was Just Dad
Stories of Growing Up with Famous Fathers
Hardcover

* Individual store prices may vary.
Description
"The lowdown on what it's like to be raised by a legend. Frequently funny and consistently intimate. . . . A great read."
 —BookPage

"Those searching for a moving Father's Day gift need look no further."
—Publishers Weekly

Men like John Wayne and John Lennon, Nolan Ryan and Bruce Lee, Cesar Chavez, Christopher Reeve, and Miles Davis have touched the lives of millions. But at home, to their children, they were not their public personas. They were Dad. Maybe Davis didn't leave the office at five o'clock to come home and play catch with his son Erin, but the man we see through Erin's eyes is so alive, so real, so not the "king of cool" (he taught his son to box, made a killer pot of chili, watched MTV alongside him) that it brings us to a whole new appreciation for the artist.
 
Each of these forty first-person narratives—intimate, heartfelt, unvarnished, surprising, and profoundly universal—shows us not only a very different view of a figure we thought we knew but also a wholly fresh and moving idea of what it means to be a father.
Praise For To Me, He Was Just Dad: Stories of Growing Up with Famous Fathers…
"The most famous fathers of modern times and how they interacted with their families in their private lives."
—Charleston Gazette-Mail
 
"Sometimes emotionally raw, funny, sometimes a bit on the competitive side, and sometimes an awful lot sad. . . . A quick, enjoyable read."
—Miami Times

"An intriguing collection of essays written by the children of actors, authors, inventors, sports heroes and scientists, the book gives readers the lowdown on what it's like to be raised by a legend. Frequently funny and consistently intimate, the essays reveal surprising truths about their subjects. . . . Rare family photos give the book extra appeal. Stein delivers a great read for dads everywhere with this touching tribute to family men."
—BookPage

"A compelling read for anyone interested in a behind-the-scenes take on the parental lives of men in the spotlight."
—Library Journal

"Stein, editor-at-large for the website Fatherly, compiles 40 stories by sons and daughters about their well-known fathers. Giving a glimpse of the men outside the public eye, these compositions present their subjects in a whole new light—ultracool actor Samuel L. Jackson is a "nerd" ("he's got a wormhole personality" who "burrows into whatever strange things he's interested in"), and Superman actor Christopher Reeve didn't become a super dad until he was paralyzed. According to Brandon Jenner, Caitlyn Jenner became a more attentive dad after her gender transition. Not all these dads were famous for the right reasons—Steve Hodel reflects on his father George, who was a prime suspect, though he was never charged, in the 1947 Black Dahlia murder—and though their children are haunted by their deeds, they also find the humanity in these men who acted in inhumane ways (Hodel recalls the joy of clamming—albeit illegally—with his father in 1949 L.A.). In a moving essay not involving a famous father, Jim Sullivan writes of spending years trying to learn the identity of his biological father, who turned out to be a Catholic priest named Thomas S. Sullivan. Those searching for a moving Father's Day gift need look no further."
—Publishers Weekly
Artisan, 9781579659349, 192pp.
Publication Date: March 31, 2020
About the Author
Joshua David Stein is the editor at large at Fatherly, the leading digital media brand for dads. Its mission is to empower men to raise great kids and lead more fulfilling adult lives through expert parenting advice, original video series, podcasts, events, and more. Stein is also the host of The Fatherly Podcast, the coauthor of Food & Beer and Notes from a Young Black Chef, and author of the children's books Can I Eat That?, What's Cooking?, and Brick: Who Found Herself in Architecture.