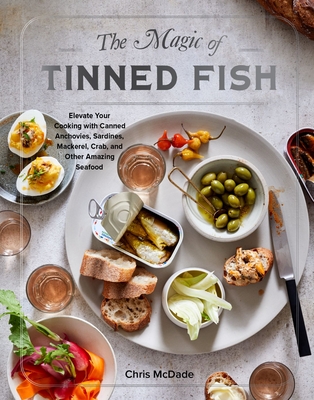 The Magic of Tinned Fish
Elevate Your Cooking with Canned Anchovies, Sardines, Mackerel, Crab, and Other Amazing Seafood
Hardcover

* Individual store prices may vary.
Description
"Excellent. . . . Thanks to McDade's assured guidance, those curious about this understated pantry staple will have no trouble diving in. Salty and satisfying, these recipes hit the spot."
—Publishers Weekly

TINNED FISH IS ONE OF THE WORLD'S GREAT INGREDIENTS: brilliantly versatile, harvested and preserved at the peak of its quality and flavor, more economical than fresh seafood will ever be, as healthy and nutrient-packed as food gets. Focusing on sustainable and easy-to-find anchovies, sardines, mackerel, shellfish, and more, here are 75 recipes that will change the way we think about and cook with tinned fish. Whether it's creating an addictively delicious Spaghetti con le Sarde, transforming a pork roast with a mackerel-based "tonnato" sauce, elevating mac and cheese with crab, or digging into the simplest and best snack ever—anchovies, bread, and butter—cooking with tinned fish is pure magic.
Praise For The Magic of Tinned Fish: Elevate Your Cooking with Canned Anchovies, Sardines, Mackerel, Crab, and Other Amazing Seafood…
"A must for anyone who has a can of seafood and a box of pasta in their cupboards, and potentially the definitive American cookbook on tinned fish."
—La Cucina Italiana
 
"Tap[s] into the versatility and downright sophistication of tinned seafood. From the simplest applications . . . to po' boys, mussel salads and savory dressings, the cookbook is full of details about each fish. We love the What's In The Tin feature, which offers a mental picture of what to expect.
—Dallas Morning News

"Tinned fish isn't only practical; it's delicious. Chris McDade profiles the versatility of tinned fish that has turned this ardent fisherman into a fan."
—Tom Colicchio, Chef/Owner, Crafted Hospitality

"Chef Chris McDade has successfully decoded the beauty of tinned fish, taking the reader on a flavor odyssey of tradition and preservation. This book's thorough research and classic recipes are simply inspiring in their complex homage to this time-honored process."
—Stuart Brioza and Nicole Krasinski, Chefs/Owners, State Bird Provisions, The Progress, and The Anchovy Bar

"Brooklyn chef McDade makes a strong case that tinned fish is the ultimate game-changing protein in his excellent debut, arguing that preserved fish 'can be just as, if not more, versatile and delicious than their fresh counterparts." French, Spanish, and U.S. influences inform the collection, which highlights all types of tinned seafood—from sardines and shellfish to squid and octopus—and how best to prepare each (some salted anchovies, for instance, need to first be soaked in cold water). The anchovy is showcased in a simple yet satisfying anchovies, bread, and butter snack, then moves to a 'supporting role' in a dish of grilled broccoli, pistachios, and Green Goddess dressing that offers a delightful punch with blended herbs and jalapeno. A celebratory presentation of sardines on a board suggests mixing cans of different-flavored sardines along with various complementary nibbles such as olives, almonds, potato chips, and spicy mustard, and breakfast gets its due with smoked trout and scrambled eggs on an everything bagel with horseradish. Meanwhile, a zesty celery and octopus salad makes a delicious case for branching outside one's traditional tinned go-tos. Thanks to McDade's assured guidance, those curious about this understated pantry staple will have no trouble diving in. Salty and satisfying, these recipes hit the spot."
—Publishers Weekly
 
Artisan, 9781579659370, 208pp.
Publication Date: June 29, 2021
About the Author
Chris McDade is the chef and owner of Popina, an Italian restaurant with Southern touches, located in Brooklyn, New York. Previously he has worked in the kitchens of Union Square Hospitality Group's Maialino and Marta as well as Estela and Huertas, among others. Follow him on Instagram at @alwaysanchovy.