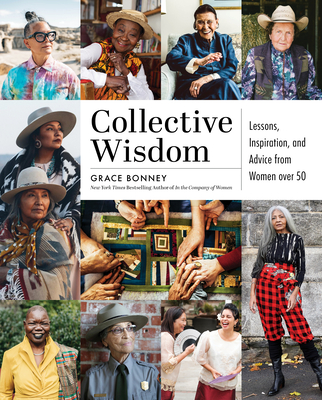 Collective Wisdom
Lessons, Inspiration, and Advice from Women over 50
Hardcover

* Individual store prices may vary.
Description
POWERFUL WISDOM FROM THE ELDERS OF OUR COMMUNITIES
 
In this rich and multilayered collection of interviews, conversations, and intimate photographs, over 100 trailblazing women describe the ups, downs, and lessons learned while forging their unique paths. Collective Wisdom celebrates the stories of those who have been there and know the road—from an Olympic athlete and a NASA team member to award-winning artists, activists, writers, and filmmakers, from women in their fifties to centenarians. It is also a tribute to the importance of intergenerational connections between women, with interviews conducted by daughters, friends, mentors, and colleagues. Collective Wisdom creates a living, breathing sense of community—a space where all of us can gather, listen, share, and learn.
 
Praise For Collective Wisdom: Lessons, Inspiration, and Advice from Women over 50…
"Collective Wisdom is the magic we all hold deeply and pass on from generation to generation. Sharing it with the world is the lifework of Grace Bonney. Her careful weaving of excellent humans and harvest of words is a true art unto itself. Keep this book close by your side."
—Genevieve Gorder, interior designer and host of Dear Genevieve and Genevieve's Renovation
 
"Grace Bonney's new book is a soulful treatise that emphatically proves that life—and living—gets better as you go. In a world that has historically worshiped youth, Collective Wisdom triumphantly reveals how artists, journalists, filmmakers, activists, chefs, tribeswomen, dancers, and even the oldest National Park Service Ranger in the US have created lives of authenticity, beauty, power, and meaning."
—Debbie Millman, writer, designer, and host of the podcast Design Matters
 
"Reading Collective Wisdom gives me life and inspiration. The intimate stories of survival, self-love, confidence, and reinventing oneself after 50 or older left a mark on me that makes me want to keep dreaming and evolving no matter how many years I am over 50, 70—heck, 90. I was left feeling like there's so much to look forward to."
—Carla Hall, chef and author of Carla Hall's Soul Food
Artisan, 9781579659431, 400pp.
Publication Date: November 9, 2021
About the Author
Grace Bonney is the author of the bestselling books In the Company of Women and Design*Sponge at Home. Bonney is passionate about equity, inclusivity, and supporting all members of the creative community: she founded Design*Sponge, a daily website dedicated to the creative community, which reached nearly 2 million readers per day for 15 years (and is now officially archived in the Library of Congress); Good Company, a print magazine and podcast about creative entrepreneurs; and After the Jump, a podcast about creatives that has reached over 500,000 listeners per episode. Bonney lives in New York's Hudson Valley with her wife and their three pets. Find her on Instagram and Twitter at @designsponge.