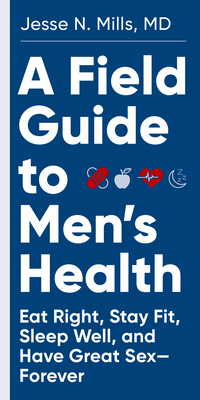 A Field Guide to Men's Health
Eat Right, Stay Fit, Sleep Well, and Have Great Sex—Forever
Paperback

* Individual store prices may vary.
Description
DON'T LEAVE YOUR HEALTH TO CHANCE.
Guys, it's time to step it up and start taking care of yourselves. Which doesn't mean making impossible-to-stick-to changes. Written by one of the leading doctors whose practice is devoted solely to men,
A Field Guide to Men's Health
shows, in the simplest and most effective way possible, how to manage the cornerstones of a healthy life while improving your chances for making it a long one, too. Including:
Cardiovascular health—did you know that blood pressure is the most vital of vital signs?
Diet and nutrition—follow a formula of 60 percent fruits and vegetables, 30 percent lean proteins, and 10 percent complex carbs for meals, and monitor your waist size to find your ideal weight.
Movement, with the best exercise programs for each decade of your life.
Sexual health' with an owner's guide to the penis.
Lifestyle, with tips on everything from managing stress—reducing it, embracing it—to the importance of vitamin D.
Above all, make these tenets the three pillars of a healthy life: Eat less, move more, sleep more.
Praise For A Field Guide to Men's Health: Eat Right, Stay Fit, Sleep Well, and Have Great Sex—Forever…
"A treasure trove of useful information that will help men of all ages improve their physical, mental, and emotional health. It's practical, easy-to-understand advice from Jesse Mills, who is a true expert in men's health."
—Arthur L. Burnett, MD, professor of urology at the Johns Hopkins University School of Medicine
 
Artisan, 9781579659783, 256pp.
Publication Date: January 4, 2022
About the Author
Jesse Mills, MD, is a leading expert in the field of men's health and sexual and reproductive medicine. He is a graduate of the University of Iowa Carver College of Medicine, trained in general surgery and urology at the University of Colorado, and completed a fellowship in male reproductive medicine and microsurgery at Baylor College of Medicine. He has had a medical practice devoted solely to men's health since 2008. He founded the first comprehensive men's clinic in Colorado, the Center for Men's Health at TUCC, in 2013, and founded the Men's Clinic at UCLA, where he currently serves as director, in 2016. In his role with UCLA Health, Dr. Mills serves as a medical consultant to the LA Lakers and LA Dodgers. He is also on the faculty of the David Geffen School of Medicine at UCLA and is an associate professor of urology at UCLA. He sees over 3,000 new patients yearly for conditions as diverse as low testosterone, erectile dysfunction, male infertility, and Peyronie's Disease and lectures internationally on men's health topics. He has authored multiple peer-reviewed scientific papers and book chapters that may cure the average reader of insomnia.