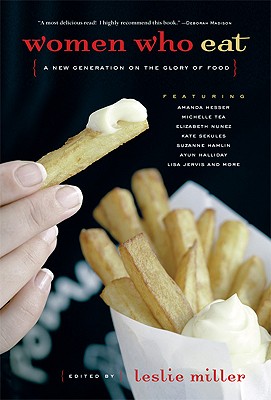 Women Who Eat
A New Generation on the Glory of Food
Paperback

* Individual store prices may vary.
Description
More than just great food writing, this long-overdue rebuttal to the notion that all women are on a diet celebrates food with grace, wit, and gusto. Women are reclaiming their pots and pans, but it's a new era in the kitchen. Today's generation of women is putting a fresh spin on the "joy of cooking"—and eating and entertaining.
Women both in and out of the culinary profession share their stories about the many ways food shapes and enhances their lives. New York Times columnist Amanda Hesser praises the joys of simple food. Kate Sekules discusses the importance of having a restaurant where you are known. Michelle Tea describes her working-class Polish family's meals as "tripe, kielbasa, shellfish and beer." One woman owns up to her culinary ineptitude in an era when being a gourmet cook is all the rage; another links her love for Carvel soft-serve ice cream to her childhood in Trinidad. One woman writes about baking school, another about making sauerkraut with her grandmother, and another about the food in her favorite books of her childhood. This illuminating look at food today, with generous helpings of great prose, is that all too rare thing: a food positive book by women.


Seal Press, 9781580050920, 296pp.
Publication Date: October 28, 2003
About the Author
Leslie Miller is an editor and writer whose work has appeared in Bare Your Soul, The Unsavvy Traveler, Young Wives' Tales, and Sex and Single Girls, among other publications, and is currently at work on her first novel. She lives with her family in Seattle.

Amanda Davis is the author of Wonder When You'll Miss Me and Circling the Drain: Stories
Amanda Hesser is a columnist for The New York Times.
Amanda Sullivan is a New York city playwright.
Cheryl Strayed's work has appeared in The Best New American Voices 2003 and The Best American Voices 2000.
Gabrielle Hamilton is the chef-owner of the New York restaurant Prune.
Josie Aaronson-Gelb is a Bay Area restaurant reviewer and former professional chef.
Karen Eng is the editor of the food zine PekoPeko.
Kate Sekules is the travel editor of Food and Wine.
Lela Nargi is the author of All U Can Eat.
And many others....