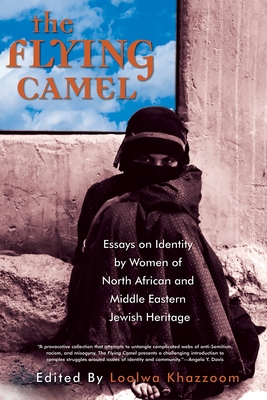 The Flying Camel
Essays on Identity by Women of North African and Middle Eastern Jewish Heritage
Paperback

* Individual store prices may vary.
Description
Many of us have stereotypes of what "Jewish" looks like—and for many of us that image is white and European. Yet with the blossoming Jewish multiculturalism movement, led by the dynamic Loolwa Khazzoom, the myth of a "monolithic Jewish community" is about to be debunked. Focusing on the experiences of Jewish women of two rich and varied regions, At Home in Exile reveals the hidden worlds of Jewish women often misunderstood or maligned by both the cultures in which they live and the European-Jewish community. Stories include one woman and her family's flight from persecution in Libya, a writer's exploration of the category "Arab Jew," and a light-skinned, Moroccan-born woman trying to "pass" in order to gain acceptance among European Jews in Tehran.

Seal Press, 9781580050951, 256pp.
Publication Date: December 2, 2003
About the Author
Loolwa Khazzoom is the director of the Jewish MultiCultural Project and a public speaker on behalf of JIMENA (Jews Indigenous to the Middle East and North Africa), a division of the Jewish Community Relations Council of the San Francisco Bay Area. She is the author of Consequence: Beyond Resisting Rape and has published essays in numerous periodicals and anthologies, including the Washington Post, San Francisco Examiner, That Takes Ovaries! and Yentl's Revenge. She lives in Israel.

or
Not Currently Available for Direct Purchase