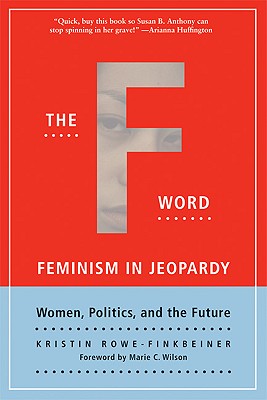 The F Word
Feminism in Jeopardy (Live Girls)
Paperback

* Individual store prices may vary.
Description
Many young women today consider "feminism" a dirty word, an antiquated term that hasn't expanded to accommodate the diverse needs of a new generation. In addition, decades of negative campaigns, excessively "messaged" issues, and hanging chads have all combined to make political apathy appear not only smart, but sexy. The result is that while they still bemoan the state of gender politics, gender equity, and the agendas of their local, state, and national politicians, nearly 19 million young women chose not to vote in the last presidential election.
Yes, the face of feminism is changing, but to what end? Is a new generation taking for granted the rights hard-won only a generation before? And by focusing on cultural–not electoral–politics, are young women giving their power away? In this pivotal book, Kristin Rowe-Finkbeiner, political and environmental consultant (and wife of Washington State's Republican senate majority leader), asks these critical questions, tracing feminism's distinguished past and asking what can be done to protect and further women's rights and freedoms.

Seal Press, 9781580051149, 302pp.
Publication Date: August 20, 2004
About the Author
Kristin Rowe-Finkbeiner is the cofounder and CEO of MomsRising, an organization with over a million members across the nation working to increase economic security, decrease discrimination, and to build a nation where everyone can thrive. She is also a frequent public speaker, radio host, and an award-winning author. She has also been published and featured in numerous outlets, including: Politico, USA Today, CNN, MSNBC, the Washington Post, and HuffPost.
or
Not Currently Available for Direct Purchase