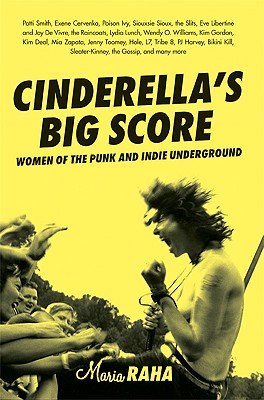 Cinderella's Big Score
Women of the Punk and Indie Underground (Live Girls)
Paperback

* Individual store prices may vary.
Description
A tribute to the transgressive women of the underground music scene, who not only rocked as hard as the boys, but also tested the limits of what is culturally acceptable -- even in the anarchic world of punk rock

Cinderella's Big Score celebrates the contributions of punk's oft-overlooked female artists, explores the latent -- and not so latent -- sexism of indie rock (so often thought of as the hallowed ground of progressive movements), and tells the story of how these women created spaces for themselves in a sometimes limited or exclusionary environment. The indie music world is littered with females who have not only withstood the racket of punk's intolerance, but have twisted our societal notions of femininity in knots.

Maria Raha focuses on the United States and England in the '70s and '80s, and illuminates how the influential women of this time shaped the female rockers of the '90s and today. Groups profiled range from the Runaways, the Avengers, and the Raincoats to L7, Sleater-Kinney, and Le Tigre, and include women who rarely get featured in "women in rock" titles, such as Exene Cervenka of X, Eve Libertine and Joy de Vivre of Crass, and Poison Ivy of the Cramps. The book features a complete discography and more than 25 photos.

Includes: Patti Smith, Exene Cervenka, Poison Ivy, Siouxsie Sioux, the Slits, Eve Libertine and Joy De Vivre, the Raincoats, Lydia Lunch, Wendy O. Williams, Kim Gordon, Kim Deal, Mia Zapata, Jenny Toomey, Hole, L7, Tribe 8, PJ Harvey, Bikini Kill, Sleater-Kinney, the Gossip, and many more
Seal Press, 9781580051163, 380pp.
Publication Date: December 31, 2004
About the Author
Maria Raha works for Spin and Vibe magazines, and has written for Time Out New York, and Bitch. She lives in New York City.
or
Not Currently Available for Direct Purchase