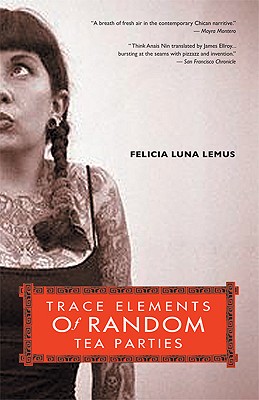 Trace Elements of Random Tea Parties (Live Girls)
Paperback

* Individual store prices may vary.
Description
"Buckle up, doll," urges the narrator of Trace Elements, "I promise I'll try not to tangle your quinceañera dress."
So begins the adventure of Leticia Marisol Estrella Torez, who moves north to Los Angeles in an attempt to break from her past: from starched dresses and sleek, tight braids; from Nana, the traditional grandmother who raised her; and also from the seductive Weeping Woman—the siren of Mexican folklore said to fly through the skies at night to steal troublesome children and who embodies, in many ways, Leti's first love. As Leti immerses herself in the post-queer hipster scene in Los Angeles, navigating the twisting road of her own shifting gender and falling deep into "papaya lush blush" love, she rediscovers the strength and meaning of la familia. A striking debut novel in the tradition of Michelle Tea and Sarah Schulman, Trace Elements spins a crazy-beautiful narrative that turns tradition on its head while laying flowers at its feet.

Seal Press, 9781580051262, 256pp.
Publication Date: August 26, 2004
About the Author
Felicia Luna Lemus graduated summa cum laude from the University of California, Irvine, and received an M.F.A. from the California Institute of the Arts. She lives in Los Angeles.