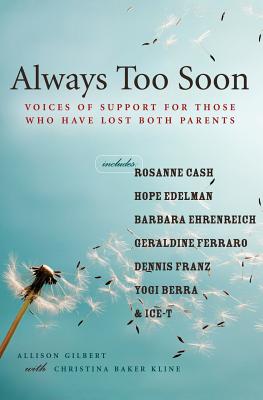 Always Too Soon
Voices of Support for Those Who Have Lost Both Parents
Paperback

* Individual store prices may vary.
Other Editions of This Title:
MP3 CD (8/9/2016)
Description
While the death of a parent is always painful, losing both is life-altering. When author Allison Gilbert lost both parents at age 32, she could not find any books that spoke to her with the same level of compassion and reassurance that she found in the support group she belonged to, so she decided to write one of her own. The result is a sensitive and candid portrayal of loss that brings together experiences from famous and ordinary grief-stricken sons and daughters that explores the regrets, heartache and sometimes, relief, that accompanies pain and healing.
Always Too Soon provides a range of intimate conversations with those, famous and not, who have lost both parents, providing readers with a source of comfort and inspiration as they learn to negotiate their new place in the world.
Contributors include Hope Edelman, Geraldine Ferraro, Dennis Franz, Barbara Ehrenreich, Yogi Berra, Rosanne Cash, and Ice-T, as well as those who lost parents to the Oklahoma City bombing, the World Trade Center bombings, drunk driving, and more.
Praise For Always Too Soon: Voices of Support for Those Who Have Lost Both Parents…
"After losing her second parent in her mid-thirties, CNN producer Gilbert searched bookstores for accounts of other adult orphans. When she came up empty-handed, the seeds of this book were sown, as she began interviewing a wide variety of celebrities and regular people who lost parents to tragedies like the crash of TWA Flight 800, drunk driving, the Oklahoma City bombing, and the 9/11 terrorist attacks. Particularly evocative are the contributions from rapper/actor Ice-T, singer/songwriter Rosanne Cash, and social critic Barbara Ehrenreich. Included are selections by people who had difficult relationships with their parents, those who lost their parents as children, and some who candidly admit to having valued one parental relationship over the other. This often heart-wrenching collection of voices should provide the type of textual "support group" formerly absent from the literature of grief."  Library Journal
Seal Press, 9781580051767, 200pp.
Publication Date: November 22, 2006
About the Author
Allison Gilbert is a producer of CNN's American Morning with Paula Zahn and Soledad O'Brien. A three-time Emmy-Award winning investigative producer, she has produced special projects for NBC News and WABC-TV in New York, worked as an investigative producer with WNBC-TV and also helped launch MSNBC as a writer and special assignments producer. She has also written numerous articles for newspapers and magazines and most recently co-edited the book Covering Catastrophe: Broadcast Journalists Report September 11. She lives in New York with her husband, Mark, and their two children.