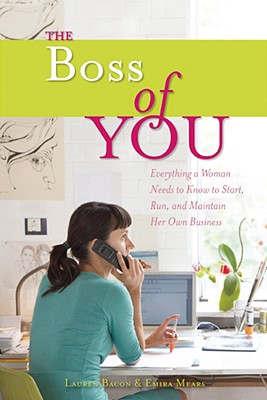 The Boss of You
Everything A Woman Needs to Know to Start, Run, and Maintain Her Own Business
Paperback

* Individual store prices may vary.
Seal Press, 9781580052368, 312pp.
Publication Date: April 15, 2008
About the Author
Like most talented website designers who can count themselves among the earlier adopters of the medium, Lauren Bacon has no formal training in graphic design. Instead she holds a BMus in classical voice from the University of British Columbia and also studied English and Women's Studies at the postgraduate level at the University of Northern British Columbia. It was through her work at the UNBC Women's Centre and under the guidance of a web-designer roommate that Lauren first came to start working on the web. Lauren has a number of high-profile designs gracing the web. Her designs can be seen on the websites of international whole foods giant Yves Veggie Cuisine; the BC Women's Hospital; Très Femme Accessories; The Chan Centre for the Performing Arts; and independent fashion designer Allison Wonderland. In her former life as a singer, Lauren was a founding member of acclaimed choral ensemble musica intima — for which she has also served as Marketing Chair— and she continues to perform as a soloist when her spare time allows. An editorial contributor to the now-defunct CBC Radio Three, and self-taught interface designer, Lauren is a sought-after speaker, participating in panels for the WEBZINE international web symposium, and a local Women in Information and Communications Technology forum, and was a guest for a San Francisco radio station on the topic of women's businesses and online publishing ventures.

Emira Mears was twenty-four years old when she co-founded Raised Eyebrow Web Studio with Lauren, and at that time could still never imagine calling herself the boss. She has since carved herself a niche as a sought-after web strategist, offering savvy and creative advice to clients ranging from international online retailers to small, grassroots non-profits. Emira's degree in Communications from Simon Fraser University (where she focused on feminism and cultural studies) gave her a solid grounding in both marketing and politics, a combination which has proved invaluable for Raised Eyebrow's growing client base of advocacy groups and small businesses. Now thirty, in addition to having an employee on the payroll, she is a published freelance writer specializing in business, media and women's issues. During the heyday of portal websites, she edited a syndicated column on the now-offline Canadian women's portal site Moxie.ca (also published at Canoe.ca) that covered these themes, and continues to contribute to a range of publications including Bitch Magazine, Venus and Herizons Magazine. In the spring of 2006, Gayla Trail — author of the successful You Grow Girl book and website — offered Emira a regular column on the YouGrowGirl.com gardening blog, where she now publishes weekly on gardening-related themes.
or
Not Currently Available for Direct Purchase