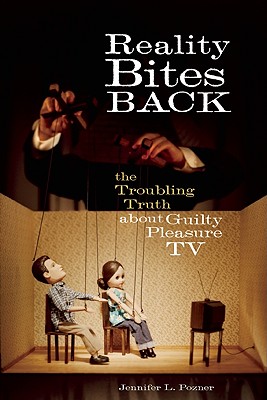 Reality Bites Back
The Troubling Truth About Guilty Pleasure TV
Paperback

* Individual store prices may vary.
Praise For Reality Bites Back: The Troubling Truth About Guilty Pleasure TV…
"A witty, original, and very smart analysis of the dark side of reality TV. Pozner expertly reveals the toxicity of what many consider to be simple lightweight entertainment and arms readers with creative ways to resist and fight back. A serious scholarly work based on years of research, Reality Bites Back is also fast-paced and fascinating. You'll never look at these shows the same way again!"

—Jean Kilbourne, ED.D., creator, Killing Us Softly: Advertising's Image of Women film series, and author, Can't Buy My Love: How Advertising Changes the Way We Think and Feel

"Jennifer Pozner's Reality Bites Back is an extraordinary gift to critical media literature. Instead of hurling down invectives against popular culture from an insulated ivory tower, Pozner is a smart, snarky fellow traveler who offers stinging criticism and stunning insights peppered with just enough colloquial profanity to keep readers laughing and shaking our heads. Pozner reminds us that TV is never accidental, but directed to reinforce particular social lessons. This should be required reading for every American girl and woman."

—Melissa Harris–Lacewell, Princeton University, Department of Politics and Center for African American Studies, MSNBC commentator, and columnist, The Nation

"Hooray! Here comes Pozner, ready to lay some reality on reality TV. Find out why these shows sell even when we don't watch, and what they sell, thanks to producers who say "it's a lot of fun to watch girls crying." Fun, fresh and furious, Reality Bites Back is feminist media criticism at its best."

—Laura Flanders, host and founder, GRITtv, and author BUSHWOMEN
Seal Press, 9781580052658, 392pp.
Publication Date: October 19, 2010
or
Not Currently Available for Direct Purchase