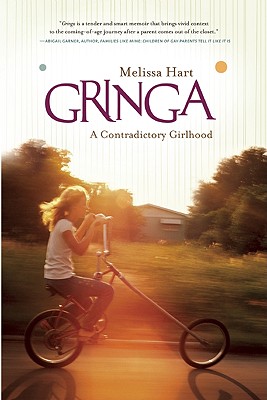 Gringa
A Contradictory Girlhood
Paperback

* Individual store prices may vary.
Description
Torn between the high socioeconomic status of her father and the bohemian lifestyle of her mother, Melissa Hart tells a compelling story of contradiction in this coming-of-age memoir. 
Set in 1970s Southern California, Gringa is the story of a young girl conflicted by two extremes. On the one hand there's life with her mother, who leaves her father to begin a lesbian relationship, taking Hart and her two siblings along. Hart tells of her mom's new life in a Hispanic neighborhood of Oxnard, California, and how these new surroundings begin to positively shape Hart herself. At the opposite extreme is her father's white-bread well-to-do security, which is predictable and stable and boring. Hart is made all the more fraught with frustration when a judge rules that being raised by two women is "unnatural" and grants her father primary custody. Hart weaves a powerful story of fleeting moments with her mother, of her unfolding adoration of Oxnard's Latino culture, and of the ways in which she's molded by the polarity of her parents' worldviews. Hart is faced with opposing ideals, caught between what she is "supposed" to want and what she actually desires. 
Gringa offers a touching, reflective look at one girl's struggle with the dichotomies of class, culture, and sexuality.
Seal Press, 9781580052948, 288pp.
Publication Date: September 22, 2009
About the Author
Melissa Hart grew up in Southern California. She earned her BA in literature from UC Santa Barbara's College of Creative Studies, and her MFA in creative writing from Goddard College. She taught at Ventura College and Santa Barbara City College before moving to Oregon. She currently teaches Magazine Writing at the University of Oregon, and teaches Introduction to Memoir for UC Berkeley's online extension program. The latter course is available to the general public.

Hart has led workshops for Oregon Writers' Colony, the Willamette Writers, North Coast Redwood Writers, and Oregon's chapter of The Society of Children's Book Writers and Illustrators. She teaches distance-learning Humanities courses for Laurel Springs School, and writes resource books for Teacher Created Resources.

Melissa Hart lives in Eugene, Oregon, with her husband, photographer Jonathan B. Smith, and their three dogs, five cats, and four rabbits. She enjoys international and local travel, gardening, running and hiking, and working with owls at the Cascades Raptor Center.