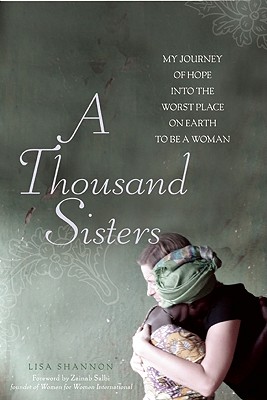 A Thousand Sisters (Hardcover)
My Journey Into the Worst Place on Earth to Be a Woman
Seal Press (CA), 9781580052962, 335pp.
Publication Date: March 16, 2010
* Individual store prices may vary.
Description
Lisa J. Shannon had a good life a successful business, a fiance, a home, and security. Then, one day in 2005, an episode of Oprah changed all that. The show focused on women in Congo, the worst place on earth to be a woman. She was awakened to the atrocities there millions dead, women raped and tortured daily, and children dying in shocking numbers. Shannon felt called to do something. And she did. A Thousand Sisters is her inspiring memoir. She raised money to sponsor Congolese women, beginning with one solo 30-mile run, and then founded a national organization, Run for Congo Women. The book chronicles her journey to the Congo to meet the women her run sponsored, and shares their incredible stories. What begins as grassroots activism forces Shannon to confront herself and her life, and learn lessons of survival, fear, gratitude, and immense love from the women of Africa.

Praise For A Thousand Sisters: My Journey Into the Worst Place on Earth to Be a Woman…
I can't imagine a more perfect book for arousing the power of American women (or women and men everywhere) to rush to the defense of our Congolese sisters. Lisa Shannon, runner extraordinaire, has with this forthright and readable book, crossed the finish line into the way of life the remainder of our time on this planet demands: she has entered the land of courage, compassion, and a fierce determination to stand by those who need us, where everyone understands they must beour lives depend on ita citizen of the world.
—Alice Walker

While reporting for the Oprah Show , I called the Democratic Republic of the Congo the worst place on earth.' When Lisa Shannon saw my report, rather than turn her back, she took it on. Her commitment to the victims of one of the world's greatest tragedies exemplifies the best in humanity. Her powerful story is an inspiration to all of those who think their voice is too small to change lives."
—Lisa Ling, journalist


"Congo is usually portrayed as hopeless and its women as victims. Lisa Shannon shines a spotlight on the hope that emanates so stubbornly from this complex country, primarily through her loving portrayal of her Congolese sisters. Instead of victims, these women are determined survivors, three-dimensional human beings who deserve our respect and solidarity."
—John Prendergast, co-founder of The Enough Project, and co-author of Not On Our Watch with Don Cheadle

As global consumers we all share some responsibility for the tragedy in the Congo. Lisa Shannon's riveting, personal narrative lays bare the human cost of that relationship, through a personal journey like no other into the heart of the Congo."
—Robin Wright, actress and activist

I wish that every woman and man in America were as stirred to outrage and action as Lisa Shannon by what is happening in today's Congo. In her heartfelt and very personal way, she shines some light on a place of great suffering that the world has too long ignored."
—Adam Hochschild, author, iKing Leopold's Ghost and iBury the Chains
or
Not Currently Available for Direct Purchase