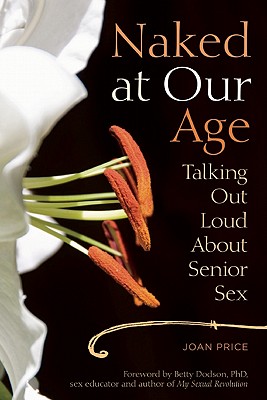 Naked at Our Age (Paperback)
Talking Out Loud about Senior Sex
Seal Press (CA), 9781580053389, 387pp.
Publication Date: May 24, 2011
Description
Joan Price is talking out loud about later-life sexuality. With a foreword by Betty Dodson, Naked at Our Age candidly addresses senior sexuality in all its colorsthe challenges, disappointments, and surprises, as well as the delights and the love stories. Naked at Our Age gives people over fifty a voice to tell stories of their past and present sex lives, ask questions, and get straightforward advice and information from experts. No topic is off-limits.
In Naked at Our Age, women and mencoupled and single, straight and gaytalk candidly about how their sex lives and relationships have changed with age, and about how they see themselves, their partners, or their single life. Many are having unsatisfying sex, or no sex at all, and are seeking advice. Price presents their personal stories, and follows up with tips from sex therapists, health professionals, counselors, sex educators, and other knowledgeable experts. Named "Outstanding Self-Help Book of 2012 by the American Society of Journalists and Authors and winner of the 2012 Book Award from the American Association of Sexuality Educators, Counselors, and Therapists, Naked at Our Age is an entertaining and indispensable guide to handling and understanding the issues of senior sex and relationships.

About the Author
Author and speaker Joan Price calls herself an "advocate for ageless sexuality." She has been called other things by the media: "senior sexpert, "the beautiful face of senior sex," andher favorite"wrinkly sex kitten." At age sixty-one, Price wrote Better Than I Ever Expected: Straight Talk about Sex After Sixty (Seal Press, 2006) to celebrate the delights of older-life sexualityespecially her spicy love affair with artist Robert Rice, who became her husband. Five years later, after questions and comments from hundreds of readers about their own senior sex lives, she is following up with Naked at Our Age. Formerly a high school English teacher, Price is also a fitness professional who believes that exercise should be a treat, not a treatment. She has written several books about health and fitness, including The Anytime, Anywhere Exercise Book: 300+ Quick and Easy Exercises You Can Do Whenever You Want. Price teaches popular contemporary line dancing classes (which she calls "the most fun you can have with both feet on the floor") in Sebastopol and Santa Rosa, California. "
Praise For Naked at Our Age: Talking Out Loud about Senior Sex…
Naked at Our Age: Talking Out Loud About Senior Sex is the 2012 recipient of the American Society of Journalists and Authors Service/Self Help Award.

Hang on, because Naked at Our Age breaks all the barriers and goes where ordinary books on this subject dare not. Some readers may be shocked . . . and others delighted by this bold . . . and uncensored approach. The message is clear: As far as sex in the senior years goes . . . the best is yet to come.
Dr. Dean Edell, M.D., Emmy-award-winning host of the Dr. Dean Edell Program and author of the best-selling book Eat, Drink and Be Merry

Told through the voices of real people interspersed with great advice from smart professionals, Naked at Our Age is an important resource for anyone who wants to keep pleasure and sensuality in their lives . . ."
Candida Royalle, pioneer of woman-friendly erotica and author of How to Tell a Naked Man What to Do

"[W]ith irresistible enthusiasm, Joan Price tackles outdated expectations and promotes new ways to celebrate sexuality throughout the later years.
Peggy Brick, president of the Sexuality and Aging Consortium at Widener University and co-author of Older, Wiser, Sexually Smarter: 30 Sex Ed Lessons for Adults Only

"[T]he impact of the book is as much inspirational as it is educational."
Pepper Schwartz, PhD, author of Prime: Adventures and Advice on Sex, Love, and the Sensual Years
Advertisement