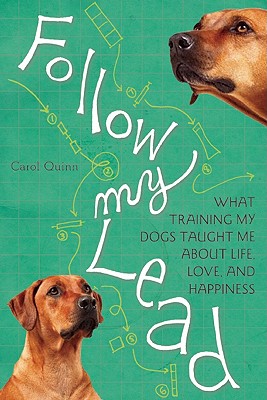 Follow My Lead
What Training My Dogs Taught Me about Life, Love, and Happiness
Paperback

* Individual store prices may vary.
Description
Follow My Lead is the story of how two rambunctious dogs and a tough Eastern European dog trainer named Irina taught Carol Quinn everything she needed to know about life, love, and happiness. 
It all begins when the author—unhappy with her failing love affair, her career, and even herself—decides to enroll her two Rhodesian ridgebacks into dog agility training. She's hoping to both find a hobby and straighten out her unruly pets, but she soon discovers that dog agility demands more from her than she ever expected. What follows is a life-changing experience: one that teaches her not only about her dogs but also about herself. 
With Irina's guidance and wisdom, Quinn and her dogs develop a deep bond of trust as they learn to navigate the course obstacles, and Quinn begins to accept her own flaws, allowing her to find the inner strength to become the "alpha dog" of her own life.
Praise For Follow My Lead: What Training My Dogs Taught Me about Life, Love, and Happiness…
"Follow My Lead is so much more than a book about dog training—it's a book about life and all the glorious ways in which we can learn from our interactions with our best friends. Through melding the stories of training her two spunky Rhodesian Ridgebacks in the agility ring with tales from her everyday life, author Carol Quinn delivers a compelling narrative that evidences the transformational power of the bond between a human and their canine companions. Taking a step back to see what dogs can teach us about our own lives opens the door to truly fulfilling a happy existence, and Quinn's reminder couldn't be timelier in our connected world."—LIFE + DOG Magazine

"[T]his uplifting memoir encourages reflection and goal–setting, all within the ever–popular narrative framework of the human–dog bond."—Kirkus Reviews

"Two Rhodesian ridgebacks rescue the Venice–based writer from a midlife funk in this warm–hearted confirmation of what most pet owners already know: Dogs really are man's—or woman's—best friend."—Los Angeles Magazinex

"Quinn's conversational tone, evident affection for her dogs, and willingness to examine her mistakes endear her as a narrator…"—Publisher's Weekly
Seal Press, 9781580053709, 272pp.
Publication Date: July 26, 2011
About the Author
Author Carol Quinn is the owner of the social media/PR consultancy ProjectQuinn, and an adjunct faculty member at USC Annenberg School for Communications and Journalism. Carol has written for film and television, and is the co-creator/author of the graphic novel series Pink Flamingos, the creator of the YA book series Palm Beach Prep, and the author of a new novel, Under the Ether. Her second novel is in progress. She has two sons and lives in Southern California.

You can find Carol online at ProjectQuinn.com, 3Lunches.com, Facebook.com/FollowMyLeadBook, and FollowMyLeadthebook.com. On Twitter, @ProjectQuinn, @3Lunches, or @FollowMyLeadCQ.