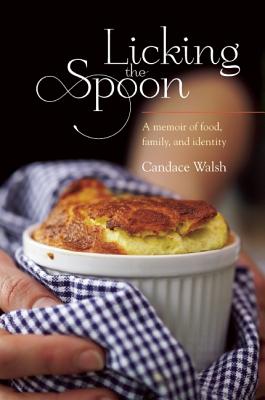 Licking the Spoon: A Memoir of Food, Family, and Identity (Paperback)
A Memoir of Food, Family, and Identity
Seal Press (CA), 9781580053914, 321pp.
Publication Date: November 13, 2012
Description
Recipes and cookbooks, meals and mouthfuls have framed the way Candace Walsh sees the world for as long as she can remember, from her frosting-spackled childhood to her meat-eschewing college years to her post-college phase as a devoted Martha Stewart's Entertaining disciple.
In Licking the Spoon, Walsh tells how, lacking role models in her early life, she turned to cookbook authors real and fictitious (Betty Crocker, Martha Stewart, Mollie Katzen, Daniel Boulud, and more) to learn, unlearn, and redefine her own womanhood. Through the lens of food, Walsh recounts her life's journeyfrom unhappy adolescent to straight-identified wife and mother to divorcee in a same-sex relationshipand she throws in some dishy revelations, a-ha moments, take-home tidbits, and mouth-watering recipes for good measure. A surprising and rambunctiously liberating tale of cooking and eating, loving and being loved, Licking the Spoon is the story of howaccompanied by pivotal recipes, cookbooks, culinary movements, and guidesone woman learned that you can not only recover but blossom after a comically horrible childhood if you just have the right recipes, a little luck, and an appetite for life's next meal.

About the Author
Candace Walsh has been a freelance writer for almost fifteen years. She has written for many publications, including Blender, New York Magazine, Mademoiselle, Newsday, Sunset, Travel & Leisure, Mothering, German Vogue, and Food & Wine. She is also the managing editor of the website My Healing Kitchen, a co-founder of Mamalicious magazine, and the editor of two Seal Press anthologies: Dear John, I Love Jane: Women Write About Leaving Men for Women and Ask Me About My Divorce: Women Open Up About Moving On.
Praise For Licking the Spoon: A Memoir of Food, Family, and Identity…
"Candace Walsh's luscious prose brings this memoir vividly to life. She weaves the comfort of food throughout her brave and ultimately uplifting quest to find her witty wonderful self. And we readers are nourished by coming along on Walsh's journey. Bon appetit." Cheryl Alters Jamison, four-time James Beard Award-winning author of Smoke & Spice, Tasting New Mexico, The Border Cookbook, and The Big Book of Outdoor Cooking & Entertaining

"Funny, moving, and as irresistible as chocolate cake, Candace Walsh's delicious memoir isn't just a coming-of-age of a remarkable woman by way of the kitchen pantry, but a smart, gorgeously written exploration of the foodsand the peoplewho really nourish us." Caroline Leavitt, author of the New York Times bestseller, Pictures of You

"Like Jane Eyre and Heartburn, Licking the Spoon is a book you won't be able to put down and a story you won't soon forget." Theo Pauline Nestor, author of How to Sleep Alone in a King-Sized Bed

"Engaging in its narrative and as satisfying as the recipes for Ropa Vieja and Chicken Fricassee included, this is truly a memoir from the heart." Curve Magazine

"The book's brightest points serve as testaments to personal reinvention and healing...when Walsh writes with pride and joy of the day she brought her shiny, new KitchenAid home and recalls tenderly the comfort found in a simple chicken fricassee, those moments shimmer like oil in a hot pan." Kirkus Reviews
Advertisement