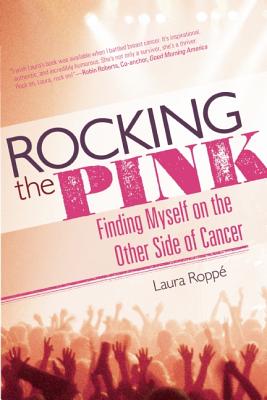 Rocking the Pink: Finding Myself on the Other Side of Cancer (Paperback)
Finding Myself on the Other Side of Cancer
Seal Press (CA), 9781580054171, 318pp.
Publication Date: February 28, 2012
* Individual store prices may vary.
or
Not Currently Available for Direct Purchase
Description
In 2008, just as Laura Roppe was poised to burst onto the music scene, her doctor called her with news that left her spinningshe had been diagnosed with an extremely aggressive form of breast cancer. Just days earlier, she had signed a dream-come-true contract with a record label; now, she wasn t even sure how much longer she had to live. Never one to back down to a challenge, however, Roppe gathered her courage, took stock of her priorities, and made a decision: Cancer may take my hair, she told herself, but that's all it's getting.
More than a cancer journey, Rocking the Pink is a quirky, charming, and poignant ode to love, friendship, and music. Roppe is unflinchingly honest and unfailingly funny as she tells the story of her odyssey: from childhood dreamer and giddy valet parker to the Hollywood stars to disillusioned lawyer, wife, and mother; from budding songwriter and late-blooming recording artist to determined cancer survivor. Full of raw emotion and humor that will make you laugh through your tears, Rocking the Pink is a chronicle of discovering one's true self through life's difficult circumstancesand a testament to the hang-in-tough, take-no-prisoners attitude it takes to kick cancer's butt.
About the Author
Laura Roppe is an award-winning singer-songwriter, cancer survivor, speaker, and former attorney from San Diego, California. She obtained a bachelor's degree in theater arts from UCLA, but then pursued the "family business"--she attended law school at the University of San Diego, where she graduated number two in her class, then went on to practice employment/business litigation for over a decade.

In 2008, the year of her diagnosis with triple negative breast cancer at age thirty-seven, Roppe ditched her legal career to follow her musical dreams in earnest. She won Song of the Year at the Los Angeles Music Awards in Hollywood in 2009. Upon the release of Roppe's second album, "I'm Still Here, " which Laura wrote during her chemo treatments, Billboard Magazine ranked her as third on its chart of the top fifty emerging artists in the world.

Roppe spends her time hanging out with her husband, two daughters, and dog, Buster, writing and singing, playing Bunco on the second Tuesday of each month with her girlfriends, and--last but not least--devising various schemes to get herself into the Copa Cabana.
Praise For Rocking the Pink: Finding Myself on the Other Side of Cancer…
I wish Laura's book was available when I battled breast cancer. It's inspirational, authentic, and incredibly humorous. She's not only a survivor, she's a thriver. Rock on, Laura, rock on!" Robin Roberts, Co-anchor, Good Morning America
Advertisement