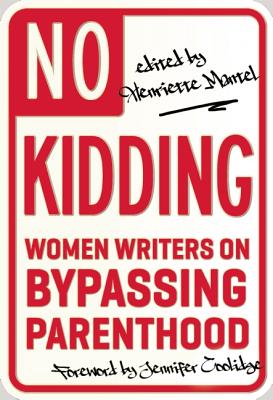 No Kidding
Women Writers on Bypassing Parenthood
Paperback

* Individual store prices may vary.
Description
In No Kidding, comedy writer Henriette Mantel tackles the topic of actually not having kids. This fascinating collection features a star-studded group of contributors-including Margaret Cho, Wendy Liebman, Laurie Graff, and other accomplished, funny women—writing about why they opted out of motherhood. Whether their reasons have to do with courage, apathy, monetary considerations, health issues, or something else entirely, the essays featured in the pages of No Kidding honestly (and humorously) delve into the minds of women who have chosen what they would call a more sane path.
Hilarious, compelling, and inspiring, No Kidding reveals a perspective that has too long been hidden, shamed, and silenced-and celebrates an entire population of women who have decided that kids are just not right for them.
Additional contributors include Janette Barber, Cheryl Bricker, Valri Bromfield, Cindy Caponera, Bonnie Datt, Jeanne Dorsey, Nora Dunn, Jane Gennaro, Julie Halston, Debbie Kasper, Sue Kolinsky, Maureen Langan, Beth Lapides, Bernadette Luckett, Merrill Markoe, Andrea Carla Michaels, Vanda Mikoloski, Judy Morgan, Judy Nielsen, Susan Norfleet, Suzanne O'Neil, Jennifer Prediger, Kathryn Rossetter, Betsy Salkind, Patricia Scanlon, Jeanette Schwaba Vigne, Nancy Shayne, Carol Siskind, Ann Slichter, Tracy Smith, Suzy Soro, Amy Stiller, and Nancy Van Iderstine.
Seal Press, 9781580054430, 248pp.
Publication Date: April 16, 2013
About the Author
Henriette Mantel is a writer/actress/director/producer. She is proud that so many of her friends don't have kids and have lived to write about it. In eighth grade, Henriette came in third in the Vermont State Forestry Essay Contest. Her Emmys for television comedy writing will never compare to that. Her favorite things she has written/directed are the show In the Middle, Midge and Buck, the documentary An Unreasonable Man, and The Beaver Play. She grew up in Vermont before it was cool to do so, and continues to live between there and New York City. You can see what she's done in her illustrious career at HenrietteMantel.com.

or
Not Currently Available for Direct Purchase