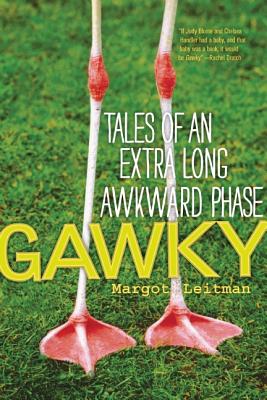 Gawky
Tales of an Extra Long Awkward Phase
Paperback

* Individual store prices may vary.
Description
Some tall girls grow up to have perfect posture and are later seen gracing the pages of magazines. Some are natural athletes with toned legs that mask their overlarge feet. Then there are tall girls: the ones who are always tripping over themselves; who never look normal in any size of clothing; who literally don't fit in.
Comedian Margot Leitman was one of these awkward giants, and Gawky is the painfully funny chronicle of her experiences growing up tall. Reaching five feet six inches in fourth grade—and approaching six feet in high school—Leitman realized early on that she'd always stand out from the crowd. To cope, she developed a thick skin and a sharp sense of humor, and instead of forever trying to blend in, she decided to embrace her center-of-attention status. Leitman wears funky, Ziggy Stardust-era jumpsuits (in the 90s); takes up any cause she can find (whether saving the public beaches or protesting prom); and generally makes as much use of her big presence as humanly possible. Leitman's memoir is a hilarious celebration of growing up gangly. 
Endearing and encouraging, is a cathartic release of everything awkward girls endure-and a tribute to a youth larger than life.
Praise For Gawky: Tales of an Extra Long Awkward Phase…
"Margot Leitman paints extremely funny pictures with words. Her singular outlook on the world presents a memoir that is anything but predictable and ultimately hysterical."
Laraine Newman, original cast member of Saturday Night Live

"Smart, funny and incredibly vivid, Margot Leitman's writing will take you back to the halycon days of the '80s and '90s. You may just relive your own youthful gawky adventuresonly this time, you'll laugh your ass off."
Sara Benincasa, comedian and author of Agorafabulous!: Dispatches from My Bedroom

"I never even realized Margot Leitman was that tall. I guess her hilarious and dazzling aura plays tricks on the eyes. Or she slouches when she talks to me. Whatever the case, I'm happy that she wrote this book."
Kristen Schaal, comedian and The Daily Show with Jon Stewart contributor

"Having known Margot for many yearsand taken an uncomfortable trip to a nude beach togetherI can personally vouch for the fact that she is both gawky and awkward. I can also vouch for the fact that her stories are heartfelt, hilarious, and genuine."
Chris Gethard, author of A Bad Idea I'm About to Do

"Margot, whom I now consider a sister in gawkiness, is unfiltered, absolutely hilarious, and so relatable. If Margot can lay it all on the line, then I no longer have to hide the fact I was a 13-year-old, 5-foot 10-inch beanpole with a Jewfro, a penchant for neon stirrup pants, and a ferocious need to fit in. Ungraceful, awkward girls unite!"
Robyn Okrant, author of Living Oprah
Seal Press, 9781580054782, 264pp.
Publication Date: May 7, 2013
About the Author
As a regular sketch performer on Late Night With Conan O'Brien, Margot Leitman built a cult following behind her character "Gyno-blast" (inspiring O'Brien to create a Gyno-blast action figure). Her other television appearances include Best Week Ever and ESPN's Cheap Seats.

Leitman's humorous, autobiographical writing has been published in Playgirl Magazine and The NY Press, as well as online at LifetimeTV.com, theFrisky.com, CollegeHumor.com, and 236.com (the comedy division of the Huffington Post). Her autobiographical one-woman show "Just Here for the Day" ran at the Upright Citizen's Brigade Theatre in New York and also played in Los Angeles; her one-act play "Slow Night" was co-written by Sarah Burns of I Love You, Man. Her former monthly column, "From Behind the Bar," was a reminiscence of bartending at the Upright Citizen's Brigade Theatre and was featured multiple times on Comedy Central Insider, BrooklynVegan.com, and Gawker.

Leitman currently teaches storytelling at both the East and West Coast schools at the Upright Citizen's Brigade Theatre. She is a regular monologist at Assscat (UCB Theatre's long running improv show hosted by Amy Poehler), Heeb Magazine's Storytelling, Moonwork, Jill Soloway's Sit N Spin, and Comedy Central's Crash Mansion, among others. In 2012, Margot was nominated for an ECNY Award (Excellence in Comedy, NY) for "Best Storyteller."

Margot Leitman lives in Los Angeles. Visit her online at MargotLeitman.com.