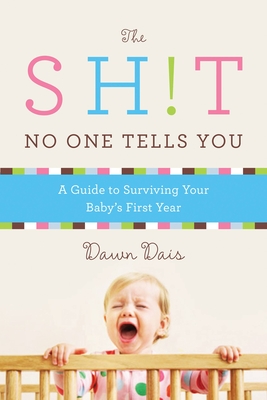 The Sh!t No One Tells You: A Guide to Surviving Your Baby's First Year (Paperback)
A Guide to Surviving Your Baby's First Year
Seal Press (CA), 9781580054843, 247pp.
Publication Date: June 4, 2013
Description
A humorous, realistic, and supportive guide to the first 52 weeks with a baby, The Sh t No One Tells You is the first book in Dawn Dais's popular parenting series, followed by The Sh t No One Tells You About Toddlers and The Sh t No One Tells You About Baby #2. There comes a time in every new mother's life when she finds herself staring at her screaming, smelly "bundle of joy" and wishing someone had told her that her house would reek of vomit, or that she shouldn't buy the cute onesies with a thousand impossible buttons, or that she might cry more than the baby. Best-selling author Dawn Dais, mother of two tiny terrors, is convinced that there is a reason for this lack of preparedness. She believes that a vast conspiracy exists to hide the horrific truth about parenting from doe-eyed expectant mothers who might otherwise abandon their babies in hospitals and run for it. Eschewing the adorableness that oozes out of other parenting books, Dais offers real advice from real moms--along with hilarious anecdotes, clever tips, and the genuine encouragement every mom needs in order to survive the first year of parenthood. The Sh t No One Tells You is a must-have companion for every new mother's sleepless nights and poop-filled days.
About the Author
Dawn Dais is a freelance writer, designer, and filmmaker from Sacramento, CA. Her two previous books, The Nonrunner's Marathon Guide for Women and The Noncyclist's Guide to the Century and Other Road Races, were published by Seal Press, have topped Amazon.com best-seller lists, and have been featured by countless TV and print media sources. Her uniquely sarcastic yet inspiring tone has entertained and guided an enthusiastic core of readers towards their various ridiculous athletic goals. Dais has a popular website, dreaminmotion.net, which has 18,000 members and features downloadable training plans, blogging, and run tracking. Her first film recently received national distribution. Dais lives in Sacramento, CA, with her partner and two-year-old daughter, Vivian.
Advertisement