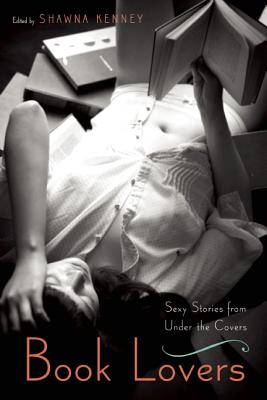 Book Lovers (Paperback)
Sexy Stories from Under the Covers
Seal Press, 9781580055291, 240pp.
Publication Date: March 25, 2014
* Individual store prices may vary.
About the Author
Editor Shawna Kenney is the author of the Firecracker Alternative Book Award-winning memoir I Was a Teenage Dominatrix, which has enjoyed international translation and a television development deal. She also co-authored Imposters, a book about celebrity impersonators. Kenney s work has appeared in Creative Nonfiction, The Rumpus, Bust, Juxtapoz, Alternative Press, The Baltimore Sun, The Florida Review, and on the Ms. blog, among others, and her essays appear in numerous anthologies. She holds an MFA in creative writing from the University of North Carolina Wilmington and a BA in film from American University. Kenney lives in Los Angeles and teaches creative writing in the UCLA Extension Writers Program. Visit her website at shawnakenney.com. Story Contributors Stephanie Auteri is a freelance writer and editor who has overshared in Playgirl, Time Out New York, New York Press, Nerve, Babble, The Frisky, and other publications. These days, she collaborates with sexual health experts on ebooks, blog posts, social media, and more. Learn more at stephauteri.com. Dani Bauter has been a bibliophile as long as she can remember and now channels her book lust into a position as the marketing and events coordinator at an independent bookstore in Orange County. While not busy reading everything she can get her hands on and inappropriately fantasizing about her favorite authors, she also enjoys photography, yoga, and hanging out near the ocean. She has a weakness for accents, assertiveness, and champagne. Laila Blake is a translator by trade who recently found a way into the writing business. Her first novel, By the Light of the Moon, was published by Crimson Romance in 2013. Her erotic short stories have been featured in Ladylit Publishing's Anything She Wants and in Go Deeper Press and Cleis Press anthologies. Valentine Bonnaire has published at ERWA in the galleries and Treasure Chest. Flowering appears this year in The Mammoth Book of Quick and Dirty Erotica. Three chapters of Man in the Moon appear in From Porn to Poetry 2. Cara Bruce is the editor of Best Fetish Erotica, Best Bisexual Women s Erotica, and Viscera. Her erotica has appeared in Best American Erotica, Best Women s Erotica, Best Lesbian Erotica, The Mammoth Book of Best New Erotica, and many more. Trina Calderon is a screenwriter and arts journalist who was born and raised in Los Angeles. She is a contributing writer for Juxtapoz Magazine and wrote the groundbreaking art and culture exhibit "PUMP ME UP: D.C. subculture of the 1980s," shown at the Corcoran Gallery of Art in Washington DC. She co-wrote the indie feature film Down For Life, which garnered critical success at the Toronto Film Festival and the Los Angeles Latino Independent Film Festival. Slash Coleman is the author of The Bohemian Love Diaries, a blogger for Psychology Today, and the creator of the award-winning PBS Special "The Neon Man and Me." His recent work was awarded the 2013 Storytelling World Award for Best Action Stories and the 2012 Best Drama Award by United Solo. He lives in New York City and splits his time between performing new material on stage and writing for film and television. Learn more at slashcoleman.com. Meena Delmar is a former teacher, an avid women's advocate, and a lifelong book lover. She keeps lists of everything she finds erotic, such as canyons, labyrinths, orchids, and mechanical schematicsand she knows well the seduction of the bound word. Landon Dixon's writing has appeared in magazines like Men, Freshmen, [2], Mandate, Torso, and Honcho. Dixon's stories can be found in various anthologies, including Ultimate Gay Erotica 2005, 2007, and 2008, as well as Best Gay Erotica 2009. Chelsey Drysdale is an editor residing in Southern California. She retired from teaching high school English at 29, and she writes personal essays for fun. Jeremy Edwards is the author of some one hundred fifty erotic short stories, as well as two erotocomedic novels. His work has been published by Cleis Press, HarperCollins UK, Penguin, Seal Press, and Simon & Schuster, and in four volumes of The Mammoth Book of Best New Erotica. Learn more at jeremyedwardserotica.com. Assia Fengari is a writer who found the secret of a perfect physical and spiritual relationship and is willing to tell about it. Adina Giannelli is a writer, teacher, student, and activist living in western Massachusetts. Although unrequited, her love for Junot Diaz is all but limitless. Michelle Cruz Gonzales just might have been pregnant in graduate school. She writes fiction and memoir and is the author of Pretty Bold for a Mexican Girl: Growing Up Chicana in a Hick Town. Visit her blog at prettyboldblog.wordpress.com. Amy Halloran lives in upstate New York and her fiction has been published by McSweeney's, Tarpaulin Sky, Gargoyle, Opium, and Alimentum. In 2012, she was a finalist for the NYFA Fellowship in Fiction. Charlotte Musee Lorenz is a musician and a sometimes visual artist who spends her spare time practicing medicine and the drums. Laura Roberts is the author of sexy and silly stories, including The Vixen Files: Naughty Notes from a Montreal Sex Columnist, The Montreal Guide to Sex, Ninjas of the 512: A Texas-Sized Satire, and Naked Montreal. The founding editor of Buttontapper Press, she currently lives in southern California with her artist husband and literary kitty in a house strewn with art supplies, books, and catnip. Izabella St. James is a Playboy Bunny and a former girlfriend of the legendary Hugh Hefner. She is the author of the memoir Bunny Tales: Behind Closed Doors at the Playboy Mansion, the first book ever written by one of Hefner's girlfriends. The book has enjoyed international success, and St. James continues to model and act in Los Angeleswhen not tending to her pug menagerie. She received a bachelor's degree from McGill University in Montreal and a Juris Doctor degree from Pepperdine University School of Law in Malibu, California. She is currently writing a sequel to Bunny Tales and a book of dog rescue stories. In her spare time, she is an active volunteer with Pug Nation Rescue of LA. L. C. Spoering has a degree in English writing from the University of Colorado, and a lesser degree in sarcasm earned from the days of yore on AOL. A storyteller since she started talking, she now spends her days writing, cleaning, cooking, reading, and contemplating the universe through various pop culture lenses. Laurie Stone is the author of several books of fiction and nonfiction and has published stories and memoirs in such publications as Open City, Anderbo, Nanofiction, Joyland, The ThreePenny Review, Creative Nonfiction, and The Los Angeles Review, among many venues. She is currently working on The Love of Strangers: Micro, Flash, and Short Fiction by Laurie Stone. Trudi Taylor was born in Scotland from a maternal line of Mediterranean Jews (artists, musicians, and a mathematician) and a paternal line of Viking atheists (policemen, gardeners, and a ship captain). After traveling the world on her father s ship, her family settled in LA (Lower Alabama). When she was thirteen, Trudi won the 8th grade creative writing contest for a short story about falling off the balance beam, and she has been writing ever since. Kristina Wright is a full-time writer and the editor of several erotica and erotic romance anthologies for Cleis Press, including Fairy Tale Lust and the Best Erotic Romance series. Jay Xuret has published many stories online and in print journals, including Stone Path Review, Foliate Oak, Outside In Literary & Travel Magazine, Fiction Vortex, and WORK Literary Magazine. The Committee Room selected his story Ordinary Life (published by The Citron Review) as the June 2013 Story of the Month. "
Praise For Book Lovers: Sexy Stories from Under the Covers…
"Unabashed, playful, and potently erotic, Book Lovers destroys forever the idea that the intellectual and the sensual are two separate and distinct worlds. In these stories, the brain and the body intertwine in a dance that will delight and tantalize anyone who truly understands what it means to fall in love with a book."
Jillian Lauren, author of the New York Times bestseller Some Girls

"With Book Lovers, the legendary Shawna Kenney has not just assembled a fantastic, compulsively readable story collection, she has created a whole new genreAuthor Porn. Book Lovers is a scintillating anthology, and a must-read for lustful literati of every stripe. Pull the blinds, and crawl between the covers."
Jerry Stahl, author of Permanent Midnight
or
Not Currently Available for Direct Purchase