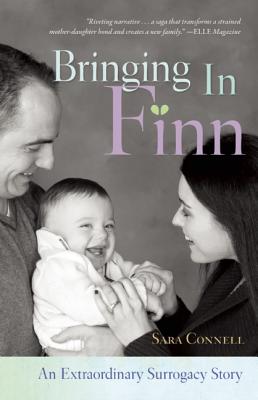 Bringing in Finn (Paperback)
Seal Press (CA), 9781580055413, 336pp.
Publication Date: October 19, 2013
* Individual store prices may vary.
Description
In February 2011, 61-year-old Kristine Casey delivered the greatest gift of all to her daughter, Sara Connell: Sara's son, Finnean. At that moment, Kristine--the gestational carrier of Sara and her husband Bill's child--became the oldest woman ever to give birth in Chicago.

Bringing in Finn is the incredible story of one woman's hard-fought and often painful journey to motherhood. In this achingly honest memoir, Connell recounts the tragedy and heartbreak of losing pregnancies; the process of opening her heart and mind to the idea of her 61-year-old mother carrying her child for her; and the profound bond that blossomed between mother and daughter as a result of their unique experience together.

Moving, inspiring, and ultimately triumphant, Bringing in Finn is an extraordinary tale of despair, hope, forgiveness, and redemption--and the discovery that when it comes to unconditional love, there are no limits to what can be achieved.
About the Author
Sara Connell is an author, speaker, and life coach with a private practice in Chicago. A frequent media contributor, Sara has appeared on Oprah, NPR, WGN, and FOX News Chicago, and will soon appear on Good Morning America, Nightline, and The View. Sara's writing has been featured in: ELLE, Good Housekeeping, Parenting, Psychobabble, Evolving Your Spirit, and Mindful Metropolis. Her first book, Bringing in Finn: An Extraordinary Surrogacy Story, was nominated for ELLE magazine's 2012 Book of the Year. Visit Sara at her website, saraconnell.com, and on Facebook. She lives in Chicago, IL.