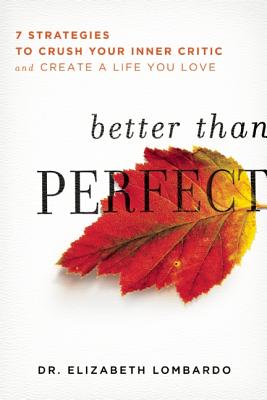 Better than Perfect (Paperback)
7 Strategies to Crush Your Inner Critic and Create a Life You Love
Seal Press, 9781580055499, 384pp.
Publication Date: September 23, 2014
* Individual store prices may vary.
Description
From Shaquille O'Neal's "head coach for happiness," a proven, powerful method for shaking the chains of perfectionism to live a happier, healthier life

Perfectionists exist in every walk of life. While outwardly they appear to be very accomplished, they are often unhappy and unfulfilled. Perfectionists strive toward unattainable goals, and their behaviors can wreak havoc on both their physical health and their psychological well-being.
Timely and transformative, Better than Perfect by Dr. Elizabeth Lombardo offers step-by-step instructions for perfectionists to find balance and freedom. The book defines perfectionism in easy-to-understand terms, offers simple assessment tools, and shares case studies of Lombardo's patients to highlight the condition. Also included are practical exercises and suggestions for behavioral changes, including seven ways to overcome perfectionism that range from choosing passion over perfection to remembering you're more than what you do.
With the ultimate goal of helping readers achieve happiness and prosperity without the stress of making sure things are perfect; Better than Perfect is a fundamental guide for all perfectionists seeking new, fulfilled, and empowered lives.
About the Author
Dr. Elizabeth Lombardo is a highly sought-after speaker and media consultant who has been honored by giving a prestigious TEDx talk. She is frequently interviewed by today's top media outlets, including Forbes, The Wall Street Journal, Money magazine, Health, USA Today, MSNBC, CNN, and National Public Radio. She has made multiple appearances on The Today Show, has a monthly column in Better Homes & Gardens, and is a contributor to The Huffington Post.

Lombardo is also the author of A Happy You: Your Ultimate Prescription for Happiness. She lives in the Chicago area with her husband and two children.
Praise For Better than Perfect: 7 Strategies to Crush Your Inner Critic and Create a Life You Love…
"Dr. Lombardo's strategies will help you get out of your own way to
create the life you want-one that's filled with happiness and success. I
highly recommend
Better than Perfect
!"
--
Marci Shimoff
,
New York Times
bestselling author of
Happy for No Reason, Love For No Reason
, and
Chicken Soup for the Woman's Soul
"At
The Oprah Winfrey Show
, I met many transformational speakers
and authors, and I can say with assurance that Dr. Lombardo's path to
change is a phenomenal one. Let her show you how to get out of your own
way, and get the most out of life!"
--
Candi Carter
, CEO of New Chapter Entertainment and former Senior Producer of
The Oprah Winfrey Show
"With the goal of helping people "before they need the couch,"
clinical psychologist ­Lombardo explains how to combat perfectionism and
stop striving for unattainable goals. She instructs using the acronym
­PERFECT: Postmortem your past; Evaluate your expectations; Reinforce
new roads; Fail forward; Eliminate extremes; Create, don't compare; and
Transcend. In each category she provides insights, case studies, and
worksheets to help readers draw up and practice realistic expectations
in order to achieve fulfilled and empowered lives. Verdict: A solid
starting point for those who suffer from perfectionist tendencies."

--Library Journal