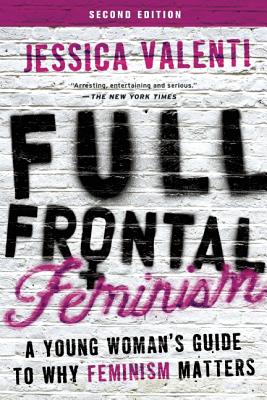 Full Frontal Feminism (Paperback)
A Young Woman's Guide to Why Feminism Matters
Seal Press, 9781580055611, 288pp.
Publication Date: July 22, 2014
* Individual store prices may vary.
Description
The #1 must-read book for a new generation of feminists who refuse to accept anything less than equality and justice for all women

Now in its updated second edition, Full Frontal Feminism embodies the forward-looking messages that bestselling author Jessica Valenti propagated as founder of the popular website, Feministing.com. Smart and relatable, the book serves as a complete guide to the issues that matter to today's young women, including health, equal pay, reproductive rights, violence, education, relationships, sexual independence and safety, the influence of pop culture, and more.

Since its original publication, Full Frontal Feminism has informed, inspired, and assured readers with the ultimate message of truth: You a feminist, and that's pretty cool.
About the Author
Jessica Valenti, called one of the Top 100 Inspiring Women in the world by The Guardian, is the bestselling author of four books on feminism, politics, and culture. Jessica is also the founder of Feministing.com, which Columbia Journalism Review called "head and shoulders above almost any writing on women's issues in mainstream media." Her writing has appeared in The Washington Post, The Nation, The Guardian (UK), The American Prospect, Ms. magazine, Salon, and Bitch magazine.

Jessica received her Masters degree in Women's and Gender Studies from Rutgers University. She lives with her husband and daughter in Boston.
Praise For Full Frontal Feminism: A Young Woman's Guide to Why Feminism Matters…
"Arresting, entertaining and serious."
—New York Times

"If feminism is enjoying a revival among young women, much of the credit should go to women such as Jessica Valenti."
—Guardian

"Valenti's writing has a wonderful defiant quality reminiscent of the days of the movement's youth."
—Washington Post

"Full Frontal Feminism shows us feminism is alive and well and kicking all kinds of oppressive male ass."—Margaret Cho

"Full Frontal Feminism is an irreverent guide to why young women should embrace the F-word."—New York Magazine

"Full Frontal Feminism tackles serious feminist issues with a sense of humor and justified anger."—Bitch Magazine