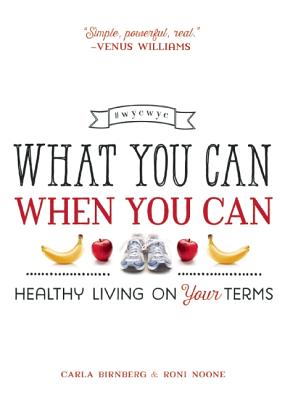 What You Can When You Can (Paperback)
Healthy Living on Your Terms
Seal Press (CA), 9781580055734, 176pp.
Publication Date: April 28, 2015
Description
We all know we should eat better, exercise more, get better quality rest, and so on. Tell us something we don t know, right? After all, every statistic we have about Americans and our health proves that no matter how good our intentions are, we are failing to change the habits that undermine our well-being. But how do we achieve our healthy living goals when they re so daunting? Who has the time, the willpower, the resources to do all that nutritious eating, muscle building, restful sleeping, and work-life balancing?
Carla Birnberg and Roni Noone have the answer to thatthe answer is you. You have the power to make healthier living easy and exciting, just by adopting one simple mantra: "What you can when you can." It's all you need.
What You Can When You Can (#wycwyc) is a book, a movement, a mindset, and a lifestyleone that harnesses the power of small steps to let you achieve your health and fitness goals on YOUR terms. The #wycwyc (pronounced "wickwick") philosophy applies to anything and everything that contributes to a healthy, happy life: nutrition, exercise, physical and mental rejuvenation, and so much more.
About the Author
Carla Birnberg is an award-winning writer, speaker, healthy living and fitness expert, community builder, and social media maven. With unapologetically myself as her motto, Birnberg encourages others to carve their own unique paths to longer, healthier, and more vibrant lives. She has been published in Woman s Day, the Wall Street Journal, Runner s World, Better Homes and Gardens, and Health, in addition to numerous other publications. Shape magazine named Birnberg one of the top 15 fitness gurus to follow on Twitter, alongside Jillian Michaels, and Fitness magazine listed Birnberg s blog as one of their favorites. Roni Noone launched the FitBloggin conference in 2010 to bring together new and seasoned health and wellness, fitness, and weight-loss bloggers for knowledge, personal growth and networking. Now in its fifth year, FitBloggin is a thriving, supportive community of bloggers all sharing the conference s mission to help spread a culture of health and wellness. She founded and runs several healthy living blogs including Roni s Weigh, GreenLiteBites, and a supportive online community called BlogToLose, where now more than 6,000 users are blogging to reach their own weight-loss goals. Noone has been featured by many media outlets including CNN, the Today show, Inside Edition, Ladies Home Journal, Everyday Health, Woman s World, Woman s Day, and Wired."
Advertisement