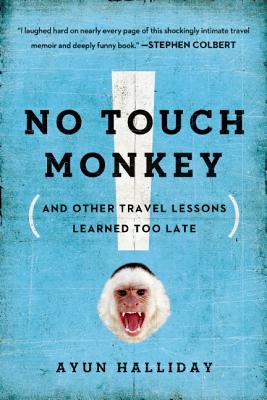 No Touch Monkey!
And Other Travel Lessons Learned Too Late
Paperback

* Individual store prices may vary.
Description
Zine queen Ayun Halliday confesses the best-and worst-of her globetrotting misadventures. "I laughed hard on nearly every page of this shockingly intimate memoir and deeply funny book." -- Stephen Colbert

Ayun Halliday may not make for the most sensible travel companion, but she is certainly one of the zaniest, with a knack for inserting herself (and her unwitting cohorts) into bizarre situations around the globe. Curator of kitsch and unabashed aficionada of pop culture, Halliday offers bemused, self-deprecating narration of events from guerrilla theater in Romania to drug-induced Apocalypse Now reenactments in Vietnam to a perhaps more surreal collagen-implant demonstration at a Paris fashion show emceed by Lauren Bacall. On layover in Amsterdam, Halliday finds unlikely trouble in the red-light district -- eliciting the ire of a tiny, violent madam, and is forced to explain tampons to soldiers in Kashmir -- "they're for ladies. Bleeding ladies" -- that, she admits, "might have looked like white cotton bullets lined up in their box."

A self-admittedly bumbling vacationer, Halliday shares -- with razor-sharp wit and to hilarious effect -- the travel stories most are too self-conscious to tell.

Includes line drawings, generously provided by the author.
Praise For No Touch Monkey!: And Other Travel Lessons Learned Too Late…
"Halliday's irreverent, sarcastic and occasionally scatological style will remind you of a phone conversation with your best friend."
—
New York Magazine
"I laughed hard on nearly every page of this shockingly intimate travel memoir and deeply funny book. Ayun Halliday lives an interesting life, and it's the good luck of us less daring types that she writes it so well."
—
Stephen Colbert
"A fearless traveler with a great sense of humor, Halliday recounts her experiences with gleeful zest..."
—
Chicago Sun-Times
"
No Touch Monkey
provides plenty of vicarious adventure for readers who prefer domestic beach hotels to malarial diarrhea and flip-flop-stealing primates."—
Bust magazine
"From her dog-eared journal, Ayun Halliday extracted the funniest scenarios and created this self-effacing rant on the humiliations of shoestring travel...Prepare to laugh out loud while commiserating with her new challenges."
—
Toronto Globe & Mail
Seal Press, 9781580056014, 272pp.
Publication Date: August 25, 2015
About the Author
Ayun Halliday is the creator of the East Village Inky, the 2002 Firecracker Alternative Book Award Winner for Best Zine. She is the author of several books, including The Big Rumpus, Dirty Sugar Cookies, and Zinester's Guide to NYC. She lives in Brooklyn.

or
Not Currently Available for Direct Purchase