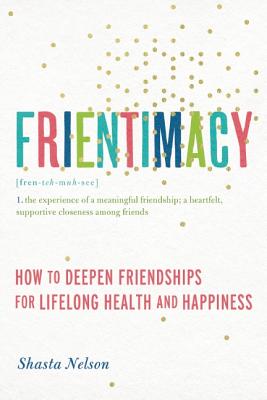 Frientimacy (Paperback)
How to Deepen Friendships for Lifelong Health and Happiness
Seal Press (CA), 9781580056076, 256pp.
Publication Date: March 1, 2016
* Individual store prices may vary.
Description
With the constant connectivity of today's world, it's never been easier to meet people and make new friendsbut it's never been harder to form meaningful friendships.
In Frientimacy, award-winning speaker Shasta Nelson shows how anyone can form stronger, more meaningful friendships, marked by a level of trust she calls frientimacy. Shasta explores the most common complaints and conflicts facing female friendships today, and lays out strategies for overcoming these pitfalls to create deeper, supportive relationships that last for the long-term.
Shasta is the founder of girlfriendcircles.com, a community of women seeking stronger, more fulfilling friendships, and the author of Friendships Don t Just Happen. In Frientimacy, she teaches readers to reject the impulse to pull away from friendships that aren t instantly and constantly gratifying. With a warm, engaging, and inspiring voice, she shows how friendships built on dedication and commitment can lead to enriched relationships, stronger and more meaningful ties, and an overall increase in mental health.
Frientimacy is more than just a call for deeper connection between friends; it's a blueprint for turning simple friendships into true bondsand for the meaningful and satisfying relationships that come with them.

About the Author
Friendship expert Shasta Nelson is the founder and CEO of GirlFriendCircles.com, the female friendship matching site where women of all ages go to make local friends, and the author of Friendships Don t Just Happen! The Guide to Creating a Meaningful Circle of GirlFriends. Shasta has appeared on The Today Show, Katie, The Early Show, and Fox Business and has been featured in Cosmopolitan, More, Redbook, Good Housekeeping, the New York Times, Chicago Tribune, and the San Francisco Chronicle. Her spirited and soulful voice can also be found at ShastasFriendshipBlog.com and in her Huffington Post column where she regularly addresses the topic of relationship health. She also teaches, lectures, and hosts Friendship Accelerator events in her hometown of San Francisco and throughout the US. Shasta s training includes a master's degree in spiritual growth and a bachelor's degree in communication, plus a decade of experience in short-term counseling, coaching leaders and teams, speaking at international motivational and teaching venues, and organizing events and retreats."