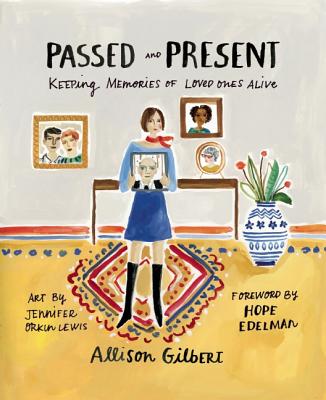 Passed and Present (Paperback)
Keeping Memories of Loved Ones Alive
Seal Press (CA), 9781580056120, 280pp.
Publication Date: April 12, 2016
* Individual store prices may vary.
Description
Passed and Present
is a one-of-a-kind guide for discovering creative and meaningful ways to keep the memory of loved ones alive. Inspiring and imaginative, this bona fide "how-to manual teaches us how to remember those we miss most, no matter how long they ve been gone.
Passed and Present
is not about sadness and grievingit is about happiness and remembering. It is possible to look forward, to live a rich and joyful life, while keeping the memory of loved ones alive.
This much-needed, easy-to-use roadmap shares 85 imaginative ways to celebrate and honor family and friends we never want to forget.
Chapter topics include:
Repurpose With Purpose Ideas for transforming objects and heirlooms. Discover ways to reimagine photographs, jewelry, clothing, letters, recipes virtually any inherited item or memento.

Use Technology Strategies for your daily, digital life. Opportunities for using computers, scanners, printers, apps, mobile devices, and websites.

Not Just Holidays Tips for remembrance any time of year, day or night, whenever you feel that pull be it a loved one's birthday, an anniversary, or just a moment when a memory catches you by surprise.

Monthly Guide Christmas, Thanksgiving, Mother's Day, Father's Day, and other special times of year present unique challenges and opportunities. This chapter provides exciting ideas for making the most of them while keeping your loved one's memory alive.

Places to Go Destinations around the world where reflecting and honoring loved ones is a communal activity. This concept is called Commemorative Travel. Also included are suggestions for incorporating aspects of these foreign traditions into your practices at home.
Being proactive about remembering loved ones has a powerful and unexpected benefit: it can make you happier. The more we incorporate memories into our year-round lives as opposed to sectioning them off to a particular time of yearthe more we can embrace
the people who have passed
, and all that's
good and fulfilling in our present
.
With beautiful illustrations throughout by artist Jennifer Orkin Lewis,
Passed and Present
includes an introduction by Hope Edelman, bestselling author of
Motherless Daughters.
About the Author
Allison Gilbert is the author of the critically-acclaimed Always Too Soon: Voices of Support for Those Who Have Lost Both Parents, and its follow-up book, Parentless Parents: How the Loss of Our Mothers and Fathers Impacts the Way We Raise Our Children. She is co-editor of Covering Catastrophe: Broadcast Journalists Report September 11, widely considered the definitive oral history of how broadcast journalists covered that historic day. Gilbert has been featured many times on CNN, FOX, MSNBC, ABC, and NPR, and her writing on family and parenting, grief and loss, cancer prevention, and genetic testing appears in numerous publications and websites including CNN.com, the New York Times, The Daily Beast, and Huffington Post. An Emmy award-winning journalist, Gilbert started her career in television news, her work honored by the National Academy of Television Arts and Sciences, the Associated Press, and the Society of Professional Journalists. She lives outside New York City with her husband and two children. Learn more about Allison at allisongilbert.com.