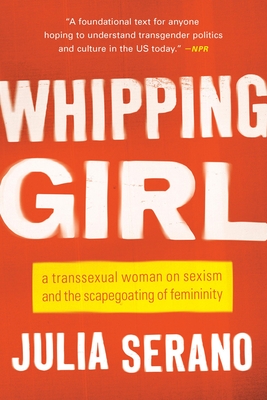 Whipping Girl (Paperback)
A Transsexual Woman on Sexism and the Scapegoating of Femininity
Seal Press, 9781580056229, 432pp.
Publication Date: March 8, 2016
* Individual store prices may vary.
About the Author
Julia Serano is a highly regarded writer and thinker on the subjects of gender, feminism, and LGBTQ issues. She is best known for her 2007 book Whipping Girl: A Transsexual Woman on Sexism and the Scapegoating of Femininity, which garnered rave reviews-The Advocate placed it on their list of "Best Non-Fiction Transgender Books," and readers of Ms. Magazine ranked it #16 on their list of the "100 Best Non-Fiction Books of All Time." Julia's writings have also appeared in numerous anthologies; in feminist, queer, and progressive magazines and websites (including Bitch Magazine, Out, AlterNet.org, Ms. Magazine blog, and Feministing.com); and are regularly used as teaching materials in gender studies, queer studies, psychology, and human sexuality courses in colleges across North America.

Julia's background as a writer, performer, activist, and biologist (she has a PhD in biochemistry from Columbia University) makes her a unique voice on the subjects of gender and sexism. She has the rare gift of being able to present complex ideas from feminism and gender/queer theory, and to interweave them with her personal experiences as a bisexual trans woman, in a clear, compelling, and entertaining manner.
Praise For Whipping Girl: A Transsexual Woman on Sexism and the Scapegoating of Femininity…
"Serano takes to task those who categorize "femininity" as artificial rather than a natural gender expression. Her convincing analysis and personal revelations challenge us to recognize our own sexist notions."
—
Ms. Magazine
"Julia Serano offers a perspective sorely needed, but up until now rarely heard." —
Bitch Magazine
"An absorbing and essential achievement in both theory and biography." —
Washington City Paper
"
Whipping Girl
critiques media depictions of trans people, dismantles science's longtime characterization of transsexuality as pathology, and offers a whip-smart vision of a world that celebrates sexual difference." —AlterNet
"Julia Serano is a careful and astute critic of the ways that trans women have been stereotyped and dismissed in popular culture, feminism, and psychology, and she repeatedly surprised me with her razor-sharp observations of the pervasive hatred of trans women and all differently gendered people. This is an important text for gender studies classes, as well as for therapists, journalists, and anybody who'd like to keep updated as a sex radical."
—Patrick Califia, author of
Sex Changes: The Politics of Transgenderism
"Julia Serano is the wise, acerbic brain at the center of the transgender movement. The original edition of Whipping Girl forever connected trans theory to feminism and queer studies; this new edition updates that work as well as providing a compelling new preface that reflects the movement's enormous progress as well as the progress that remains to be made. Julia Serano is more than a brilliant writer and theorist; she's also a tremendously compassionate, humane woman whose work has enlarged the lives of all her readers. Urgent, contentious, generous, and brilliant."
—Jennifer Finney Boylan, Author of
She's Not There
, and Writer in Residence at Barnard College of Columbia University
"Julia Serano did not invent transfeminism, but she's done more to promote its ideas and demonstrate its necessity than any other writer. Her analysis of the misogyny at the root of transphobia is vital. This book should be taught in every introduction to gender and women's studies class in the country—read it, teach it, learn from it, and act on it."
—Susan Stryker, author of
Transgender History
and Director, University of Arizona Institute for LGBT Studies
-----
Praise for the first edition:
"Seminal." —
Variety
Advance praise for the second edition of Whipping Girl:

"It's official: Whipping Girl is a 21st century feminist classic. It's also a gift to a culture (still) struggling to face its own misogyny. Serano's writing is clear, gracious, and incredibly illuminating."
—Jennifer Baumgardner

"Serano's thinking continues to challenge and delight—Whipping Girl is a foundational text that will prove to be timeless."
—Jessica Valenti

"Having only just come out as Transgender, I was taken by a friend to a bookstore and told to buy Whipping Girl immediately. As I read, the revelation dawned on me that experiencing my gender could be full of self-empowerment and liberation as opposed to the fear and shame I had already spent a lifetime living with. Not only was this book a light in the dark for someone jumping head-first into transition, it also served as an essential tool to pass on to family and friends to help them to better understand what it means to be Trans. I'm forever thankful for this book and its author."
—Laura Jane Grace