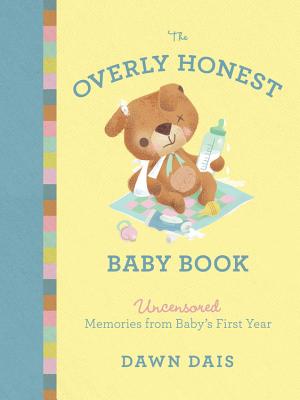 The Overly Honest Baby Book (Hardcover)
Uncensored Memories from Baby's First Year (Sh!t No One Tells You #3.5)
Seal Press, 9781580056397, 80pp.
Publication Date: April 25, 2017
* Individual store prices may vary.
Description
Riffing off the sweet, sentimental baby memory books in the gift market, The Overly Honest Baby Book will highlight the real milestones of parenting-the indignities of childbirth, the first green poop, the first time Baby bit Mommy's boob while feeding, the first projectile spit-up, and more. Dawn's uniquely sarcastic yet playful tone has entertained and guided an enthusiastic and devoted readership over the years.
About the Author
Dawn Dais is a freelance writer, designer, and filmmaker from Sacramento. Her previous books, including The Sh!t No One Tells You Series, The Nonrunner's Marathon Guide for Women, and The Noncyclist's Guide to the Century and Other Road Races, were published by Seal Press, have topped Amazon.com best-seller lists, and have been featured by countless TV and print media sources. Her uniquely sarcastic yet inspiring tone has entertained and guided an enthusiastic core of readers towards their various ridiculous parenting and athletic goals.

Dawn lives in Sacramento with her partner, two kids, two dogs, two cats, and the occasional mouse brought in the home by said cats.
Praise For The Overly Honest Baby Book: Uncensored Memories from Baby's First Year (Sh!t No One Tells You #3.5)…
"Any parent who does not find this book funny and does not want to give it to a new parent or soon-to-be-parent just doesn't have the sort of sense of humor needed to bring up a child while keeping at least a few parental brain cells intact. That parent should probably hold onto
The Overly Honest Baby Book
for himself or herself, to use with the
next
baby."—
Infodad blog
"Dawn Dais' slim hardbound volume is not only useful...it's a perfect release for all the unwonderful baby memories."—
The Entertainment Report
"Dawn Dais has thoughtfully and humorously spun the standard "Baby's First Year" with a parent's version that has me giggling like a school girl... literally the perfect gift for a first-time mom."—
BleepingMotherhood.com
or
Not Currently Available for Direct Purchase