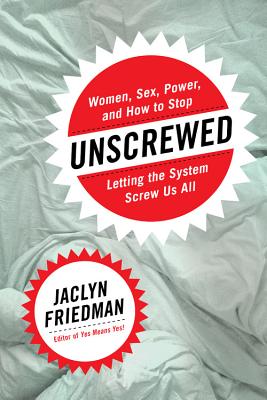 Unscrewed: Women, Sex, Power, and How to Stop Letting the System Screw Us All (Hardcover)
Women, Sex, Power, and How to Stop Letting the System Screw Us All
Seal Press (CA), 9781580056410, 288pp.
Publication Date: November 14, 2017
Description
What bestselling authors like Sheryl Sandberg and Brigid Schulte have done for women's work lives, Jaclyn Friedman does here for women's sexuality: spark a culture-wide rethink about what's accepted as normal, urging us all to try for something better. Not only that: she does it with warmth, irreverence, and candor reminiscent of Roxane Gay in Bad Feminist, and the fiery conviction of her own co-edited anthology Yes Means Yes In Unscrewed, Friedman reveals that the anxiety and fear women in our country feel around issues of their sexuality are not, in fact, their fault, but instead are side effects of our toxic culture. Dubbed the "era of fauxpowerment," that culture gives women the illusion of sexual power, with no actual power to support it. Exploring where media, religion, politics, and education overlap with feminist issues, Unscrewed breaks down the causes and signs of fauxpowerment, then gives readers tools to take it on themselves.
About the Author
Jaclyn Friedman is a writer, performer, and activist, and the editor of the hit book Yes Means Yes: Visions of Female Sexual Power and a World Without Rape (one of Publishers' Weekly's Top 100 Books of 2009). Friedman is a popular speaker on campuses and at conferences across the U.S. and beyond. She has been a guest on BBC World Have Your Say, Democracy Now, To The Contrary, and numerous other radio and television shows, and her commentary has appeared in outlets including CNN, The Washington Post, The Nation, Jezebel, Feministing.com, The American Prospect, Bitch, AlterNet, and The Huffington Post. She is a SheSource expert, and was named one of 2009's Top 40 Progressive Leaders Under 40 by the New Leaders Council.
Advertisement