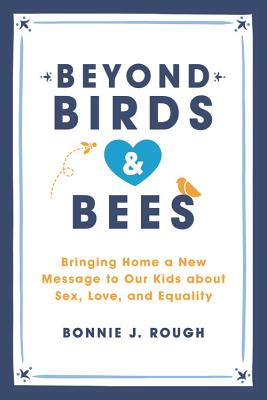 Beyond Birds and Bees
Bringing Home a New Message to Our Kids About Sex, Love, and Equality
Paperback

* Individual store prices may vary.
Description
A provocative inquiry into how we teach our children about bodies, sex, relationships and equality -- with revelatory, practical takeaways from the author's research and eye-opening observations from the world-famous Dutch approach

Award-winning author Bonnie J. Rough never expected to write a book about sex, but life handed her a revelation too vital to ignore. As an American parent grappling with concerns about raising children in a society steeped in stereotypes and sexual shame, she couldn't quite picture how to teach the facts of life with a fearless, easygoing, positive attitude. Then a job change relocated her family to Amsterdam, where she soon witnessed the relaxed and egalitarian sexual attitudes of the Dutch. There, she discovered, children learn from babyhood that bodies are normal, the world's best sex ed begins in kindergarten, cooties are a foreign concept, puberty is no big surprise, and questions about sex are welcome at the dinner table.

In Beyond Birds and Bees, Rough reveals how although normalizing human sexuality may sound risky, doing so actually prevents unintended consequences, leads to better health and success for our children, and lays the foundation for a future of gender equality. Exploring how the Dutch example translates to American life, Rough highlights a growing wave of ambitious American parents, educators, and influencers poised to transform sex ed -- and our society -- for the better, and shows how families everywhere can give a modern lift to the birds and bees.

Down to earth and up to the minute with our profound new cultural conversations about gender, sex, power, autonomy, diversity, and consent, Rough's careful research and engaging storytelling illuminate a forward path for a groundbreaking generation of Americans who want clear examples and actionable steps for how to support children's sexual development -- and overall wellbeing -- from birth onward at home, in schools, and across our evolving culture.
Praise For Beyond Birds and Bees: Bringing Home a New Message to Our Kids About Sex, Love, and Equality…
"What a gift! Bonnie J. Rough offers a much-needed breath of fresh air in her wonderful new approach to discussing sex, love, and equality with our kids. Her smart, vigorously well-researched, and funny book is a great guide for families to read and discuss as their kids grow up."—Caroline Grant, Co-director, Sustainable Arts Foundation

"With care and clarity, Bonnie Rough breathes new life into our national non-conversation about sex. Taking her cues from other countries' sensible approaches, she guides us gently towards a saner and healthier future."—Michael Kimmel, author of Guyland, among other books

"Bonnie J. Rough has written a brilliant book about sex, gender, justice, and joy, and it's one that manages to be simultaneously sobering and buoyant. Her main ingredients for raising healthy kids--wonder, humor, and trust--constitute a kind of inspirational worldview, applicable to all aspects of parenting certainly, but even beyond that, to life itself. I'm so glad I read it."—Catherine Newman, author of Catastrophic Happiness and One Mixed-Up Night

"Filled with sweet, poignant, and laugh-out-loud stories, Beyond Birds and Bees is a most accessible and most informative book that will help parents and caring adults become more adept at talking to young people about healthy sexuality. Bonnie J. Rough offers practical advice, gentle encouragement, and is vulnerable enough to let us learn from her own failures and successes. If you're looking for a book that provides a heartfelt and common sense approach to raising sexually healthy children, you've found it!"—Al Vernacchio, MSEd, author of For Goodness Sex: Changing the Way We Talk to Teens About Sexuality, Values, and Health

"With humor, humility, and gentleness, Bonnie J. Rough takes us on her journey of discovery and leaves us somewhere surprising and wonderful. Along the way, her practical tips add up to a transformative rethinking of what it means to teach our children about sex. This is a book that can help everybody: parents who know what they're doing, parents who worry they don't have a clue, and the rest of us, too, who never got the loving, tender teaching we deserved."

—Lisa Wade, bestselling author of American Hookup: The New Culture of Sex on Campus

"Finally: a parenting book that abandons preachiness for a joyful and thoughtful inquiry into how we might guide our kids, and grow with them, as they become healthy, happy young adults. Bonnie J. Rough's experience in the Netherlands and her wide-ranging research offer an inspiring and practical alternative to help children (and their parents) become more comfortable in their own skins."—Sonya Huber, author of Pain Woman Takes Your Keys

"Beyond Birds and Bees is a must-read for every parent. With humor and grace, Bonnie J. Rough invites readers to learn alongside her as she embarks on a journey to understand how we can create truly gender equal societies and raise happy and healthy children who celebrate their own bodies. I wish I'd read this book when my daughters were little, but I'm grateful for it now, because it is never too late to talk openly with our kids about sex, sexuality and our bodies. This book is validating, eye-opening and truly life-changing."—Kate Hopper, Author of Use Your Words: A Writing Guide for Mothers and Ready for Air: A Journey Through Premature Motherhood

"The conversation Rough starts about sexuality and gender equality in Beyond Birds & Bees is one we all need to be having-with our partners, our kids, our kids' teachers, our legislators-well: everybody. Read it. Start talking."—Jill Christman, author of Darkroom: A Family Exposure and Borrowed Babies: Apprenticing for Motherhood

"A warm, sane call to action for parents facing the daunting task of raising kids with a healthy, positive sexuality."—Salon
Seal Press, 9781580057394, 320pp.
Publication Date: August 21, 2018
About the Author
Bonnie J. Rough is the author of The Girls, Alone, and Carrier: Untangling the Danger in My DNA. An award-winning essayist and memoirist with an MFA in Nonfiction Writing from the University of Iowa, her essays have appeared in numerous publications. She lives with her husband and two daughters in Seattle and makes frequent trips back to their former home in the Netherlands.