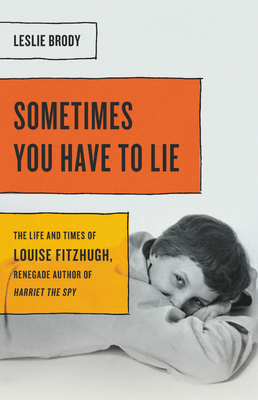 Sometimes You Have to Lie
The Life and Times of Louise Fitzhugh, Renegade Author of Harriet the Spy
Hardcover

* Individual store prices may vary.
Other Editions of This Title:
Digital Audiobook (11/30/2020)
Description
In this inspiring biography, discover the true story of Harriet the Spy author Louise Fitzhugh -- and learn about the woman behind one of literature's most beloved heroines. Harriet the Spy, first published in 1964, has mesmerized generations of readers and launched a million diarists. Its beloved antiheroine, Harriet, is erratic, unsentimental, and endearing -- very much like the woman who created her, Louise Fitzhugh.  Born in 1928, Fitzhugh was raised in segregated Memphis, but she soon escaped her cloistered world and headed for New York, where her expanded milieu stretched from the lesbian bars of Greenwich Village to the art world of postwar Europe, and her circle of friends included members of the avant-garde like Maurice Sendak and Lorraine Hansberry. Fitzhugh's novels, written in an era of political defiance, are full of resistance: to authority, to conformity, and even -- radically, for a children's author -- to make-believe.  As a children's author and a lesbian, Fitzhugh was often pressured to disguise her true nature. Sometimes You Have to Lie tells the story of her hidden life and of the creation of her masterpiece, which remains long after her death as a testament to the complicated relationship between truth, secrecy, and individualism.
Praise For Sometimes You Have to Lie: The Life and Times of Louise Fitzhugh, Renegade Author of Harriet the Spy…
"Expansive and revealing… Leslie Brody assembles the clues to the personal history that shaped Fitzhugh's conscience and creative convictions. Brody, a biographer and playwright who adapted "Harriet the Spy" for the stage in 1988, has pored through correspondence, memoirs and court documents, and conducted dozens of interviews to reveal the trail that Fitzhugh left unmarked."—New York Times

"Highly enjoyable… Ms. Brody's engaging biography reminds us how fragile and serendipitous artistic beginnings can be, yet how mighty and enduring their endings."—Wall Street Journal

"A study that reveals the quiet subversiveness of Harriet the Spy and adds sharp political potency to the book's seemingly innocent play with questions of secrecy and surveillance." —The New Republic

"Brody's project is to rescue Fitzhugh from the morass of kid lit and memorialize her as an unsung queer, feminist exemplar."—New Yorker

"In this sad, evocative biography, it is Fitzhugh's friends who share her truths, so the story can remain true to her."—Washington Post

"A portrait of a complicated, messy, brilliant artist — who would have thrilled Harriet herself."—New York Post

"In 'Sometimes You Have to Lie', an engrossing and carefully researched biography of Louise Fitzhugh, Leslie Brody vibrantly tells the story of the complicated and ultimately triumphant life of the author of "Harriet the Spy." She presents a full portrait of Fitzhugh, previously a shadowy figure at best, and places her firmly in the top rank of children's book creators."—Boston Globe

"[Louise Fitzhugh] remains a mystery to this day, but Leslie Brody's new book works to pull back the curtain on Fitzhugh's sensational life."—Bustle

"Leslie Brody paints a portrait of Fitzhugh that's almost as indelible as Harriet herself…deeply endearing introduction to the woman who gave the American canon one of its icons."—Vox

"In this lively, compassionate biography of Louise Fitzhugh, author of the children's instant-classic 'Harriet the Spy' series from the 1960s, Leslie Brody sheds light on the remarkable woman behind the books."—Christian Science Monitor

"It turns out many of the roots of Harriet's privileged existence can be found in the life of her creator, Louise Fitzhugh. Leslie Brody's new biography, Sometimes You Have To Lie (a piece of Ole Golly dialogue), delves deep into the writer's fascinating past."—The A.V. Club

"'Sometimes You Have to Lie' is the fascinating story of the long-hidden truth about the life of the queer author of an iconic children's book. Harriet wouldn't be able to put it down."—Washington Blade

"Brody's book peeks behind the curtain at Fitzhugh's hidden life, her writing, and her struggle to express her individuality during a time of turbulent social and cultural change."—BookTrib

"I've never been more intensely curious about a writer's life, nor more thwarted in finding anything out about that life, than I have been in the case of Louise Fitzhugh. At some point I deduced that the very lack of information likely answered my most burning question—was she a lesbian? But that was little preparation for the true story. What a lesbian! And what a life! Leslie Brody serves up an almost unbearably gratifying tale in her much-anticipated biography, Sometimes You Have To Lie. Southern Gothic childhood. Escape to Greenwich Village and Europe. Famous friends. String of lovers. Cross-dressing. Publishing gossip. Even a lost manuscript. I was especially pleased to learn so much about the painting career of this groundbreaking writer who considered herself just as much a visual artist. I only wish Brody's book, and Fitzhugh's life, had been much, much longer."— Alison Bechdel,author of Fun Home

"Harriet
the Spy was a tough, smart, vulnerable, funny,
unsentimental, and deeply observant little kid who was a born writer, much
like her creator, the wonderful Louise Fitzhugh. She was a heroine unlike any
children's book heroine who preceded her. If you loved Harriet, if you still
think about her from time to time, you will love this book."— RozChast, author of Can't We Talk About Something More Pleasant?

"It has taken a really good spy, in Leslie Brody, to come up with the story we've been waiting to get our hands on for all our reading lifetimes. Sometimes You Have to Lie does the greatest honor to Louise Fitzhugh and her brilliant avatar, Harriet the Spy: It tells the truth."—Gregory Maguire, author of Wicked and Egg & Spoon

"With clear-eyed compassion, Leslie Brody pulls back the curtain to reveal the complex, delicate, fierce woman whose imagination created our beloved Harriet the Spy, and so much more. I was fascinated and moved by Louise Fitzhugh's struggles to be and do and have all she desired, and I feel richer for the experience of getting to know her."—Therese Anne Fowler, author of Z:A Novel of Zelda Fitzgerald

"What a role model Harriet the Spy was for a kid: whip-smart, curious, and bold. It turns out her creator, Louise Fitzhugh, was just as daring. Sometimes You Have to Lie is a rollicking and insightful biography about a modern literary heroine."—Anne Zimmerman, author of An Extravagant Hunger: The Passionate Years of M.F.K. Fisher

"When you read Sometimes You Have to Lie, you become like Harriet, spying on Louise Fitzhugh. This wonderfully written biography lets readers walk in Louise's footsteps, as if taking notes on countless details of her complicated, rich life."— Jack Gantos, author of the Rotten Ralph series
Seal Press, 9781580057691, 352pp.
Publication Date: December 1, 2020
About the Author
Leslie Brody is a biographer, playwright, and professor of creative writing. She adapted Harriet the Spy for the stage in 1988 and is the recipient of a National Endowment for the Arts award and a PEN America award for creative nonfiction. She has been an on-staff book columnist for Elle magazine. She lives in Redlands, California.