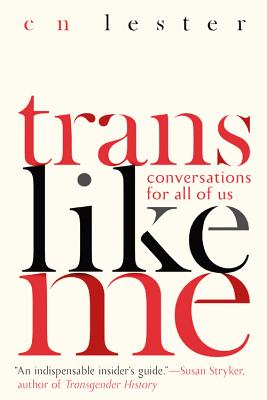 Trans Like Me (Paperback)
Conversations for All of Us
Seal Press, 9781580057851, 240pp.
Publication Date: June 19, 2018
* Individual store prices may vary.
Description
A personal and culture-driven exploration of the most pressing questions facing the transgender community today, from a leading activist, musician, and academic
In
Trans Like Me
, CN Lester takes readers on a measured, thoughtful, intelligent yet approachable tour through the most important and high-profile narratives around the trans community, turning them inside out and examining where we really are in terms of progress. From the impact of the media's wording in covering trans people and issues, to the way parenting gender variant children is portrayed, Lester brings their charged personal narrative to every topic and expertly lays out the work left to be done.
Trans Like Me explores the ways that we are all defined by ideas of gender--whether we live as he, she, or they--and how we can strive for authenticity in a world that forces limiting labels.
About the Author
CN Lester is an academic, musician, and leading British trans rights activist. A critically acclaimed singer-songwriter, Lester also works as a composer and classical performer. Lester consults and educates on trans issues with a wide range of organizations, and they've written on the trans experience for various outlets.
Praise For Trans Like Me: Conversations for All of Us…
"Lester uses these witty essays to help undermine some persistent myths."—
New York Times
"In brisk and readable prose, CN Lester's Trans Like Me clearly maps our culture's current fixation on transgender issues. It's an indispensible insider's guide for the uninitiated, as well as a handy compenium of talking points for anyone who finds themselves needing to answer questions on contemporary trans lives."—
Susan Stryker, PhD, author of Transgender History
CN Lester merges personal narrative and media critique of the "trans tipping point" with clear eyes, sharp focus, and thoughtfulness in this beautiful, accessible book. If you¹ve ever been curious about how narrative shapes bodies-trans or otherwise-and want an engaging instruction in how one can reshape it, read this book.
—
Thomas Page McBee
The book to give your cis friends.—
Stephanie Burt
"[A] winning collection of essays...offers perspective and clarity on issues that, time and again, are stumbling blocks to trans acceptance and celebration of human gender diversity."—
Publishers Weekly **starred review**
"Lucid and insightful...cautiously optimistic about the future of the trans experience, auguring a positive future that will surely be hastened by such important works as this one."—
Booklist
"Accessible for both scholars and readers interested in trans rights."—
Library Journal
"Lester's open and honest discussion about the trans experience is an invaluable resource for those looking to be an ally to the trans community."—
HelloGiggles
"A timely, informative, and valued contribution to the national dialogue."—
Midwest Book Review