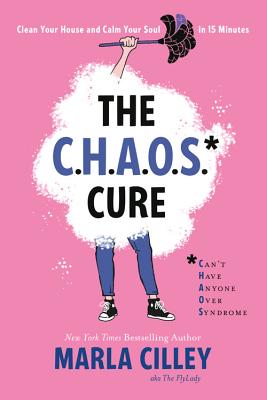 The CHAOS Cure (Paperback)
Clean Your House and Calm Your Soul in 15 Minutes
Seal Press, 9781580058025, 208pp.
Publication Date: December 18, 2018
* Individual store prices may vary.
Description
With the help of New York Times bestselling author and housekeeping guru Marla Cilley, you'll cure your household CHAOS (Can't Have Anyone Over Syndrome) by changing your messy home into a soothing sanctuary

Are you suffering from CHAOS, otherwise known as Can't Have Anyone Over Syndrome? If your house is a jumble of dirty dishes, piles of paper, and never-ending laundry, you are probably afflicted. But don't give up hope, because now there's an antidote: The CHAOS Cure.

In her eagerly anticipated new book, Marla Cilley--aka "The FlyLady" to the hundreds of thousands who visit her website for daily domestic inspiration--reaches into our homes to help make housecleaning more meaningful and life less messy. With a little bit of armchair therapy and plenty of practical, tactical tips--such as "On the Fly!" quick fixes and genius uses for sticky notes--she'll help us get our houses in shipshape order before we can break a sweat. Along the way, the FlyLady teaches us to embrace household maintenance as an act of self-care, and to enjoy the soothing satisfaction of an orderly habitat.

Before you know it, you'll be on the fast-track to living CHAOS-free, surrounded by sparkling serenity.


About the Author
Marla Cilley, known to her followers as the FlyLady (FLY: Finally Love Yourself), is an organizing and time management expert with a system she shares with her followers on the website FlyLady.net. She is the author of two previous bestselling books, Sink Reflections and Body Clutter: Love Your Body, Love Yourself. She lives in North Carolina.
Praise For The CHAOS Cure: Clean Your House and Calm Your Soul in 15 Minutes…
"The Goddess of Clean . . . The FlyLady offers devotees inner peace through a clutter free home."
—
TIME
"When domestic chaos threatens, FlyLady buzzes to the rescue."
—
Christian Science Monitor
"[The FlyLady] is a favorite starting point for many people seeking transformation through baby steps."
—
Washington Post
"It may seem odd that Cilley should spin such gold from nagging,
something most of us do our best to avoid. Yet her [fans] . . . cannot get enough."—
CNN
"This message of universal love, coupled
with concrete daily tasks and a cyber-community of likeminded fellow
travelers, has made FlyLady a spiritual leader as much as a home
organizer."
—
Beliefnet
"Suggestions are room by room and object by object, from getting dressed to hosting guests, and addressing everything from old pillows to misfit T-shirts . . . [Cilley] walks readers through a quick and easy cleaning in 15, 10, even 5 minutes."—
Booklist