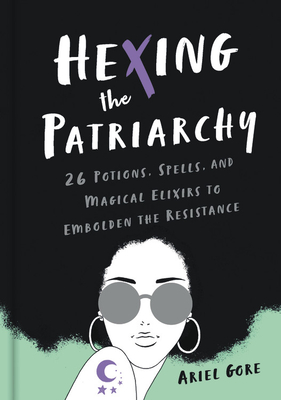 Hexing the Patriarchy (Hardcover)
26 Potions, Spells, and Magical Elixirs to Embolden the Resistance
Seal Press, 9781580058742, 288pp.
Publication Date: October 15, 2019
* Individual store prices may vary.
Description
A magical guide to subverting manboy power, one spell at a time
Skeptics might think witchcraft is nothing more than a fad, but make no mistake: modern witches aren't playing around. Today's wizarding women are raising hell, exorcising haters, and revving up to fight fire with a fierce inferno of magical outrage.

Magic has always been a weapon of the disenfranchised, and in Hexing the Patriarchy, author Ariel Gore offers a playbook for the feminist uprising. Full of incantations, enchantments, rituals, and witchy wisdom designed protect women and bring down The Man, readers will learn how to . . .

Make salt scrubs to wash away patriarchal bullshit
Mix potions to run abusive liars out of town
Use their bare hands and feet to vanquish bro culture
Conjure dead relatives to help smash the system
. . . and more.
From summoning Ancestors to leveraging the Zodiac, these twenty-six alphabetically inspired spells are ready-made recipes for toppling the patriarchy with a dangerously divine, they-never-saw-it-coming power.
About the Author
Ariel Gore is a journalist, writer, and teacher. Her novel We Were Witches was celebrated for its "piercing and wise" (Booklist) examination of modern womanhood. Gore is the founder of Hip Mama, an Alternative Press Award-winning publication covering the culture and politics of motherhood, and the creator of the Fascism Fatigue Coloring Book. She lives in Santa Fe, New Mexico.
Praise For Hexing the Patriarchy: 26 Potions, Spells, and Magical Elixirs to Embolden the Resistance…
"It's time to conjure. Ariel Gore's
Hexing the Patriarchy
is a call to arms--if by 'arms' we mean hearts and guts and brains and twinkle parts against brutality. This book is about the spells, incantations, and storytelling we need to bring ourselves back to life. This book is a magical field guide that will set the crap that needs to burn on fire, and compost the living shit out of the wrong world toward revolution, revelation, reformation, and release. I'm all in."—
Lidia Yuknavitch
,
bestselling author of The Misfit's Manifesto, The Book of Joan, The Chronology of Water, and more
"Employing fierce metaphysics, creativity, humor, and pure badass conjuring, Ariel Gore's magical, majestic
Hexing the Patriarchy
is a practical field guide to fixing what's wrong the world, one earth-loving, mama-empowering, patriarchy-squashing hex at a time. Just holding this book in my hands makes me feel giddy with hope."—
Karen Karbo
,
author of In Praise of Difficult Women
"Ariel Gore has given us . . . the tools and the nerve to be magic. Her cauldron is for every stepped-on and marginalized being to add to and shine on. Gore knows that in the collective we are free from our masters--while one can be free in their mind, those who actualize their potential as a tribe might save what's left of our world.
Hexing the Patriarchy
is an anti-fascism tool that belongs in our feminist libraries and medicine chests to aid what ails you through this fight."—
Sophia Shalmiyev
,
author of Mother Winter
"I endorse Ariel Gore's book, which covers everything from wholesome light witchcraft for health to what you gotta do to punch your enemy in the throat. The spell I most needed, and used, was 'Be Your Own Muse.' If you've ever been a muse to an m-a-n, especially a certain bass player, you know what fresh hell it was. Thank you, Ariel Gore."—
Jennifer Blowdryer
,
journalist and punk music artist