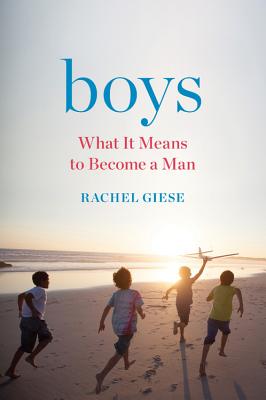 Boys
What It Means to Become a Man
Hardcover

* Individual store prices may vary.
Other Editions of This Title:
Digital Audiobook (12/10/2018)
Description
A vital and sweeping examination of today's "boy crisis," demonstrating the ways in which we raise boys into a culture of toxic masculinity and offering solutions that can liberate us all

Whether they're being urged to "man up" or warned that "boys don't cry," young men are subjected to damaging messages about manliness: they must muzzle their emotions and never show weakness, dominate girls and compete with one another.

Boys: What It Means to Become a Man examines how these toxic rules can hinder boys' emotional and social development. If girls can expand the borders of femaleness, could boys also be set free of limiting, damaging expectations about manhood and masculinity? Could what's been labelled "the boy crisis" be the beginning of a revolution in how we raise young men?

Drawing on extensive research and interviews with educators, activists, parents, psychologists, sociologists, and young men, Giese -- mother to a son herself -- examines the myths of masculinity and the challenges facing boys today. She reports from boys-only sex education classes and recreational sports leagues; talks to parents of transgender children and plays video games with her son. She tells stories of boys navigating the transition into manhood and how the upheaval in cultural norms about sex, sexuality and the myths of masculinity have changed the coming of age process for today's boys.

With lively reportage and clear-eyed analysis, Giese reveals that the movement for gender equality has the potential to liberate us all.
Praise For Boys: What It Means to Become a Man…
"Boys is a multifaceted exploration of masculinity . . . Rachel Giese's vision of boyhood--and therefore manhood--is an enlarging, humane one. This is a beautifully reasoned work that should be required reading for anyone interested in detoxifying masculinity."—Michael Redhill, author of Giller-winning Bellevue Square

"A broad, readable take on the limits of modern-day masculinity, and how to push its boundaries to better serve our children and ourselves. It's full of love but unsentimental, with new tidbits for scholars of gender, race and identify, and valuable insight for parents of little boys, like me."
—The Globe and Mail

"Giese looks at masculinity with a surprisingly heartfelt curiosity and objectivity." —Literary Review of Canada

"Giese is highly successful at applying ideas that might otherwise feel academic or abstract. Through a combination of original reportage, personal experience, and scholarly research, Giese makes a strong case." —Quill & Quire
Seal Press, 9781580058766, 240pp.
Publication Date: December 11, 2018
About the Author
Rachel Giese is an editor-at-large at Chatelaine and a regular contributor to CBC Radio. Her award-winning journalism has appeared in Toronto Life, the Walrus, the Globe and Mail, and Today's Parent and on NewYorker.com. She lives in Toronto with her wife and son.
or
Not Currently Available for Direct Purchase