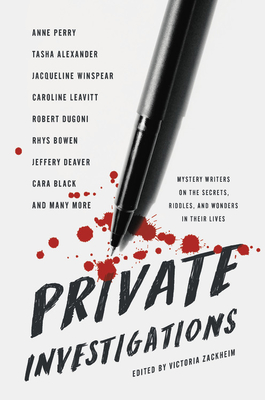 Private Investigations
Mystery Writers on the Secrets, Riddles, and Wonders in Their Lives
Hardcover

* Individual store prices may vary.
Description
In this thrilling anthology, bestselling mystery writers abandon the cloak of fiction to investigate the suspenseful secrets in their own lives.
For many of us, a good, heart-pounding mystery is the perfect escape from real-world confusion and chaos. But what about the writers who create those stories of suspense and intrigue? How do our favorite novelists cope with our perplexing world, and what mysteries keep them up at night?
In Private Investigations, twenty fan-favorite mystery writers share first-person tales of mysteries they've encountered at home and in the world. Caroline Leavitt regales us with a medical mystery, recounting a time when she lost her voice and doctors couldn't find a cure, Martin Limón travels back to his military stint in Korea to grapple with the crimes of war, Anne Perry ponders the magical powers of stories conjured from writers' imaginations, and more.
Exploring all the tropes of the genre -- from haunted houses and elusive perpetrators to regrouping after missed signals have derailed them -- these writers' true tales show just how much art imitates life, and how, ultimately, we are all private investigators in our own real-world dramas.
Praise For Private Investigations: Mystery Writers on the Secrets, Riddles, and Wonders in Their Lives…
"A fascinating and unsettling set of essays about what makes writers curious, what makes them investigate."—Jane Smiley, Pulitzer Prize-winning author of A Thousand Acres

"Some books you read for beauty, some for truth, some for the hell of it -- but Private Investigations is a book that beats all. It proves the old axiom about how truth is stranger than fiction through these bestselling writers' essays about the strangest mysteries in their very own lives, which are much, much stranger, eerier, sadder, more puzzling, and even more shocking than any novel. A sane woman falls in love with a mad imposter. A healthy writer copes with the massive growth removed from her body by imagining the birth of the twin children she never had. Editor Victoria Zackheim has conjured up a brand-new thing with this collection -- so keep it on the bedside table and consult it whenever real life seems a little ho-hum."—Jacquelyn Mitchard, bestselling author of The Deep End of the Ocean

"Private Investigations is an unassuming gem of a book that took me completely by surprise! It is fascinating, and turns out to be much more than the sum of its parts, gracefully assembled by the unobtrusive hand of Victoria Zackheim. A stellar assortment of familiar mystery writers comes to grips with the efforts of solving the defining mysteries that directed -- and have continued to shape -- their actual lives. The result is startlingly wondrous! This collection is made up of personal essays that read like extraordinarily intimate stories, and the effect of reading them is at once shocking but also deeply moving and, in the end, oddly reassuring. Not one of us is alone facing the sometimes daunting conundrums of our lives."—Robb Forman Dew, National Book Award­-winning author of Dale Loves Sophie to Death

"Every reader wants to read books that beguile them away from their mundane lives. The story craft of these writers at the top of their game does exactly that: They seduce us into their personal live and share private mysteries, like a reaction to a college peeping Tom, an almost fantasy-like medical condition, and one writer's contemplations on suicide at the age of five. And so many more. Lucky for us, the stories are all like the best mysteries: better deepened, never dispelled."—Joe Loya, executive producer of the Bank Robber Diaries podcast and author of The Man Who Outgrew His Prison Cell
Seal Press, 9781580059213, 320pp.
Publication Date: April 21, 2020
About the Author
Victoria Zackheim is a screenwriter, playwright, and the editor of six anthologies, including the highly acclaimed The Other Woman. She wrote the documentary Where Birds Never Sang: The Story of Ravensbruck and Sachsenhausen Concentration Camps, which aired on PBS nationwide. Zackheim teaches creative nonfiction in the UCLA Extension Writers' Program and is a frequent speaker and writing instructor. She lives in Northern California.
or
Not Currently Available for Direct Purchase