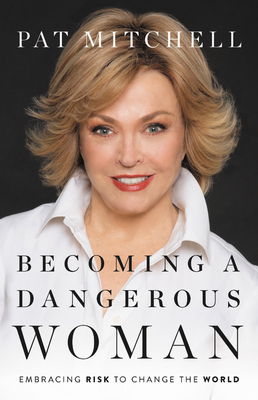 Becoming a Dangerous Woman (Hardcover)
Embracing Risk to Change the World
Seal Press, 9781580059299, 304pp.
Publication Date: October 8, 2019
* Individual store prices may vary.
Description
An intimate and inspiring memoir and call to action from Pat Mitchell -- groundbreaking media icon, global advocate for women's rights, and co-founder and curator of TEDWomen
Raised in a small town in Georgia with no money or connections, Pat Mitchell went on to become a consummate media game-changer. She was the first woman president of PBS and of CNN productions, and also a visionary, award-winning TV and film producer, fully engaged on the front lines of cultural change.
Pat Mitchell is a dangerous woman.
What makes Pat Mitchell dangerous is her lifelong insistence on redefining power on her terms, and in leveraging that power to manifest a better world. In Becoming a Dangerous Woman, she shares her own path to power, from a childhood spent on a cotton farm in the South to her unprecedented rise in media and global affairs. Alongside revelatory interviews with other dangerous women, Mitchell takes us on a lively journey, sharing with readers intimate anecdotes about navigating the power paradigms of Washington DC and Hollywood, traveling to war zones with Eve Ensler and Glenn Close, pressing Fidel Castro into making a historic admission about the Cold War, and matching wits with Ted Turner and Robert Redford.
"Dangerous times call for dangerous women," Mitchell tells us, and in sharing her story, she encourages others to braver and bolder, to dismantle the barriers to full equality they see in their own lives, and to embrace risk to create a more equitable world.
About the Author
Pat Mitchell is the editorial director for TEDWomen; previously, she was the first woman president and CEO of PBS and CNN Productions. She is chair of the board of the Sundance Institute, and a member of the board of the Skoll Foundation. She lives in Atlanta, Georgia.
Praise For Becoming a Dangerous Woman: Embracing Risk to Change the World…
Named one of the "Most Powerful Women in Hollywood" by Hollywood Reporter

"Her impressive bio doesn't do her justice."—Forbes

"Pat has been the connector, the spark plug, and the strategist behind more important women's events and forums than seems possible."—Jane Fonda

"Pat is that most rare of leaders, one who is trusted by the decision makers as they now exist, and also by the future decision makers hoping to expand what exists."—Gloria Steinem