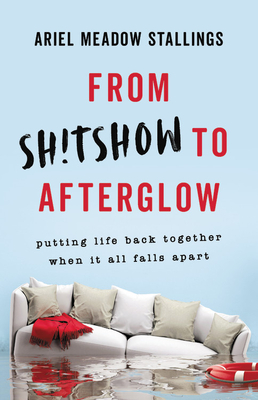 From Sh!tshow to Afterglow
Putting Life Back Together When It All Falls Apart
Hardcover

* Individual store prices may vary.
Other Editions of This Title:
Digital Audiobook (7/20/2020)
Description
Rebound after loss, grief, and the other cruel crises life throws your way with this irreverent guide -- the perfect anti-self-help book.
Sometimes your foundation crumbles. Sometimes you realize there wasn't a foundation to begin with. Maybe your relationship ended in a breakup or divorce, or you lost your job, or a loved one died. Whatever crisis showed up to screw with you, it brought everything else crashing down, and suddenly life became confusing, disorienting, out of control. A total shit show. You. Need. Help.
Therein lies the problem: Traditional self-help guides just aren't for you. You're an individualist, an iconoclast, a follow-your-own-drumbeat kind of person. The typical sunshine-and-rainbows, "live your best life!" books in the "personal growth" aisle aren't going to speak to your worldview -- you need an embrace-your-weirdness vision for growth and rebuilding.
Enter Ariel Meadow Stallings, who has experienced a few life catastrophes of her own and emerged from them with newfound clarity and strength. In From Sh!tshow to Afterglow, she offers a lifeline of support and outside-the-box thinking for times of crisis and confusion, sharing plenty of tactical tips for getting your shit together. Along the way, she never lets readers forget that sometimes a life has to be taken apart before it can be put back together better than ever.
Without sugar-coating how deeply it sucks to have your world shattered, From Sh!tshow to Afterglow gives readers a reassuring plan to for putting the pieces back together and emerging stronger than ever.
Praise For From Sh!tshow to Afterglow: Putting Life Back Together When It All Falls Apart…
"Look: I'm not saying anything bad will happen to you, but if it does, From Sh!tshow to Afterglow is the only book you'll want to see on the bedside table. Ariel Meadow Stallings is no-bullshit -- and all kinds of funny, frank, and smart. I'm glad this book exists to help readers pick up the pieces"—Sarah Knight, NewYork Times bestselling author of Calm the F*ck Down

"Ariel Meadow Stallings' compassionate insights, wicked sense of humor, and sharp, self-deprecating writing make this book a balm to soothe even the most raging of shitshows. Deftly addressing the mental, physical, and metaphysical impacts of trauma and heartbreak, From Sh!tshow to Afterglow is a raw, honest, and accessible tool for healing in these wildly uncertain times."—Kristen J. Sollée,author of Witches, Sluts, Feminists

"This
is the perfect book for anyone who's been metaphorically thrown from the horse
of life. With intense honesty and wit, Ariel Meadow Stallings guides us through
the darkest shadows of her (and our own) fears while sprinkling in just the
right amount of scientific research and practical tips in every chapter."—BusterBenson, author of Why Are We Yelling

"A much needed book for anyone who has ever dealt with loss at any level. Ariel is the friend with the exact advice and reassurance you've been searching for. You'll laugh, cry, and finally feel at peace with life's constant changes that are out of our control."—Samantha Matt, authorof Average is the New Awesome
Seal Press, 9781580059633, 288pp.
Publication Date: July 21, 2020
About the Author
Ariel Meadow Stallings is a Seattle-based publisher, author, media commentator, event producer, and web community mobilizer. Her work has been featured by the New York Times, Today show, and the Guardian. She lives in Seattle.