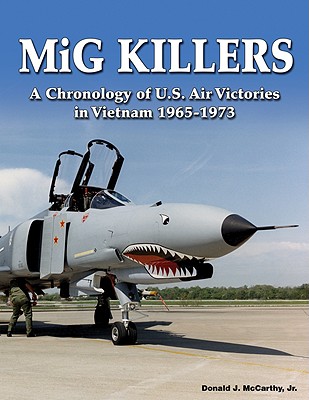 MIG Killers (Hardcover)
A Chronology of U.S. Air Victories in Vietnam 1965-1973
Specialty Press, 9781580071369, 160pp.
Publication Date: June 16, 2009
* Individual store prices may vary.
Description
MiG Killers: A Chronology of U.S. Air Victories in Vietnam 1965-1973 tells the dramatic story of U.S. Air Force and Navy flight crews who battled the Soviet-built enemy MiGs in the war-torn skies over Southeast Asia. Learn new information on this subject from vivid and detailed narrative describing all 202 MiG kills made by six different aircraft types, and with every engagement arranged in chronological order. This book also features the most complete photo documentation on this subject ever assembled. By using outstanding original military photography, much of which has never before been published, this book shows 169 of the 174 U.S. aircraft credited with MiG kills during the Vietnam War. It describes each aircraft with serial number, tail code, operational unit, crewmember names, callsign, and specific weaponry and tactics used in accomplishing each and every MiG kill made from April 1965 through January 1973.