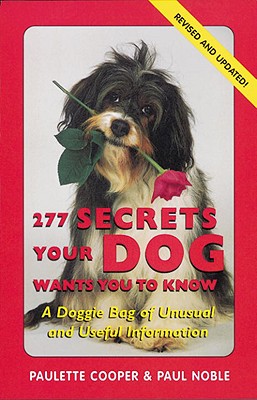 277 Secrets Your Dog Wants You to Know, Revised: A Doggie Bag of Unusual and Useful Information (Paperback)
A Doggie Bag of Unusual and Useful Information
Ten Speed Press, 9781580080149, 208pp.
Publication Date: September 1, 1998
* Individual store prices may vary.
or
Not Currently Available for Direct Purchase
Description
From the ten products that could save your dog's life to your dog's ten most embarrassing habits, this book of tips, advice, and anecdotes will help anyone to better understand and care for their dog. It's time for the creature we describe as our "best friend" to receive more careful attention and recognition of his/her sterling qualities. This revision reflects the latest in doggie knowledge and products, and answers such timeless questions as: Should you vacuum your dog?What can dogs hear, smell, and see-and should they watch TV?How do I give my dogs pills, brush their teeth, and perform other tough tasks without losing their love?And much much more...at least 277 fun facts and helpful hints for dog owners around the world.
About the Author
Paul Noble, winner of five Emmys, works for Lifetime Television and is the co-author of three books with his wife, Paulette Cooper. Paulette Cooper is the award-winning author of thirteen books, including 277 SECRETS YOUR DOG WANTS YOU TO KNOW and THE SCANDAL OF SCIENTOLOGY.
Praise For 277 Secrets Your Dog Wants You to Know, Revised: A Doggie Bag of Unusual and Useful Information…
"If you spend much time surfing the canine web or reading doggie information, in no time you'll discover a sameness in topics. You may start to wonder if there's anything new to be read on dogs. Just as ho-humness starts to sink in, grab 277 SECRETS YOUR DOG WANTS YOU TO KNOW."-Caninetimes.com
Advertisement